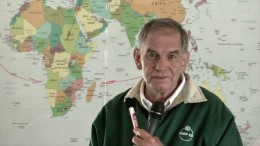 About 30 years ago Brian Oldreive, a former Zimbabwean test cricketer, was farming tobacco when he and his wife Cath became Christians. He is now well-known for being the visionary behind Foundations for Farming, formerly Farming God's Way.
In this interview you get to meet him and to learn something of his background, and why he changed from tobacco to food. You will also sense his passion to see the Kingdom of God advance in Zimbabwe and the whole of Africa, and his great heart for the Poor.
One to one with Brian Oldreive from Newfrontiers on Vimeo.
If this video has inspired you and you wish to become involved in Operation Trumpet Call there is a day of prayer for Zimbabwe on September 26th. More details will become available on the Operation Trumpet Call website.
In some future posting I will also give more details about Foundations for Farming.
Tweet This
Tags: Brian Oldreive, Christian, Foundations for Farming, Poor