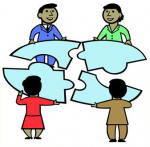 As we come to the final part of this series I want to look at Phil 2:4-8, the heart of what Jesus has modelled for us in total unselfishness, putting our interests before his own, even to the extent of laying down his life for us.
Over the last 30 years I have had the privilege of serving many teams, both as a member and as team leader. I have provided administrative support to various teams led by Terry Virgo and have given leadership to the management teams for the Downs and Stoneleigh Bible Weeks, and for the Together on a Mission Conferences. I have also led the staff team of Terry Virgo's office in Hove. In each case I have sought to encourage team members to see their role through the lens of servanthood. Jesus modelled this so vividly to us in many narratives in the gospels, particularly and most conspicuously when he washed the disciples feet (Jn 12) and when he taught that he came to serve, not to be served (Matt 20:28).
Inconspicuous Support
When leading teams nothing has given me more pleasure than when I have seen one member noticing that another needed help and, without being asked, just drew alongside their colleague and offered the necessary support. They thus demonstrated their understanding of the above verses 'looking not only to their own interests but also to the interests of others'. Such action produced strong, close-knit teams who took pleasure in achieving the intended outcome to the highest standard without seeking personal recognition.
Personal Recognition
This lack of seeking personal recognition was another value I sought to instil. I encouraged team members to recognise that their reward and satisfaction came from not being noticed; not being noticed indicated that they were doing a good job and people were not encountering inefficient or heavy administration!
A servant does not demand thanks for what he is employed to do, although it is clearly encouraging when he does receive thanks and commendation. For Jesus this recognition comes in Phil 2:9. The verse begins 'therefore'. As has been said by others, when you see 'therefore' you must ask what it is there for! The answer is that God is pleased with what has gone before in verses 1-8, namely that Jesus has demonstrated pure and total humility in his serving attitude, and was thus 'highly exalted' by God, the only One who can bring such a commendation.
Conclusion
We come to the end of this series on a 'high'. What better place to reach than one that emulates Jesus' attitude as we serve in a team! To serve in this way demonstrates that we are growing to be more like him, and that produces teams that work.
Summary
In this series I have sought to show how to create teams that work. Using the mnemonic TEAM in reverse we have seen:
Mission – what are we trying to accomplish?
Achieve – are we hitting our goals?
Equipped – what skills and gifts are needed or represented on the Team?
Together – how to work together in a humble and mutually supportive way.
My prayer is that this series will help you create teams that recognise that they have a mission to accomplish and that they will achieve this mission with an appropriately balanced combination of gifts and talents, and an attitude of humility and mutual support.
Tweet This