News from apostolic spheres in the Newfrontiers family of churches
In recent days I have, from time to time, given news updates from around the apostolic spheres of Newfrontiers as I have become aware of them. Here are some extracts from a recent newsletter from the Pacific Rim.
In UK summer holidays are upon us so this will be my last post for a few weeks.

A Word from Peter Brooks…

I recently had the privilege of hearing John Maxwell speak on Leadership. Having enjoyed his book over the years, I can only say I loved him even more in the flesh. I think for me, his focus and passion on making Christ known was profound.
The thundering message that rattled through the arena in Sydney as he spoke was 'People aren't coming to church, so you must go to them!' I know it is obvious but building bridges is key and engaging people where they are and bringing value to them as Jesus did must be a massive focus for all of us in these days.
I thank God for what has been built in the Pacific Rim so far but we have a long way to go and many nations to be reached and churches planted.
I was encouraged when a recognised prophetic minister, who I personally had never met picked me out of a crowd recently and basically 'read my mail' and encouraged me that God was going to see humble beginnings, multiply and multiply and multiply to the point where articles would be written concerning what had happened.
To be honest I cannot express to you how completely out of the blue and encouraging this word came. When the prophet asked, 'does any of this mean anything to you', I was almost speechless because of its accuracy.
God is good and I want you to believe like me that the best is yet to come for Newfrontiers Pacific Rim.
Spotlight on Phally Yeun in Cambodia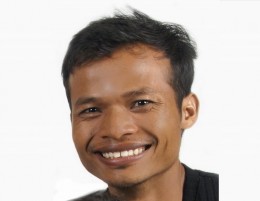 Phally is one of the very gifted leaders on the leadership team in Phnom Penh Cambodia.
1. How did God call you into leadership?
He called me by putting a desire to see changes/transformation in Cambodia for the current generation and the generations to come. I believe the best way to see such change is through the local church.
2. Are there any authors or preachers that have particularly influenced you?
Authors: John Maxwell (Books on leadership and people)
Preachers: Simon Brown, Terry Virgo
3. You have a whole day to yourself, what would you do with it?
I would play soccer for 24 hours and a half!
4. How is your church serving the community around you?
We have started to run a number of English classes which draws people into church and gives them a valuable skill which opens up job opportunities. We also run boats trips which are fun socials and pray for our community.
New Elders appointed in New Zealand and Philippines
Mike Irving writes:
It has been a real privilege to be a part of appointing elders in Christchurch, NZ and Manila, Philippines in the last few months. Travelling to both these churches with Pete Brooks and laying hands on 4 guys in each church has been very exciting, especially as I consider the quality of the guys we have appointed.
In Christchurch we laid hands on 3 Matt's and a Paul – four very different guys, all with excellent wives, that will bring a great diversity of ministry to the church alongside the existing elders, Ken & Bob.
From left to right Paul & Janet Williams, Matt & Lesley Parker, Matt and Lucy Pratt, Matt and Louisa Walters
In Manila it was a joy to appoint 4 great Filipinos as elders – Eden, Ramon (Boy), Rodney & Armand. These guys have been developing as a team over recent years with their wonderful wives alongside them. Eldership teams are far from the norm in Filipino churches and so it has been particularly exciting to see this worked out in House of Grace. With the church building almost complete and incredible ministries happening in Taguig City and Santa Rosa, the church is poised to see real growth.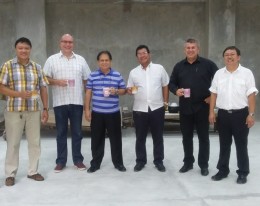 From left to right Ramon, Mike, Rodney, Armand, Peter, Eden
Newday Philippines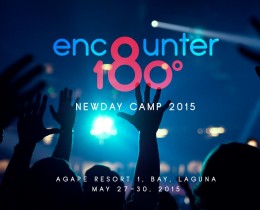 Hew Nunn writes:
Encounter180 was the theme for Newday Philippines 2015 (hosted by our church in Manila). From the very start the atmosphere was electric. The 60 young people aged between 12-18 were so excited to gather and be in the presence of God.
35 came from the church in Taguig (an area within Manila), the rest from Santa Rosa which is a new outreach project. Many of those from Santa Rosa have only been saved a very short period of time so it was great to see more and more young people stepping out, bringing bible verses, prayers or words they felt God had placed on their hearts.
The morning and evening meetings looked at the theme of encountering God. These were followed up with ministry times, many being powerfully touched and some receiving the gift of tongues for the first time.
In the afternoon, it was too hot to be anywhere other than in the pool where we played all manner of games. The young people were determined to make everything lots of fun to be involved with.
What was very encouraging was the strength of the future leaders we saw coming through. Lots of the youth leaders and worship team demonstrated massive potential which is really exciting for what is to come. It was also good to see the joy in the church, the generosity of the people and their selfless approach to God.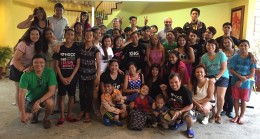 If you wish to subscribe to receive this newsletter sign up here.
Tweet This