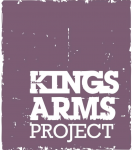 Recently I carried out a 'Ministry Health Check' with the Kings Arms Project. I was impressed about the high standard of ministry and felt their story should be told. Ali Green, the present leader of the ministry, has responded with this report. More recently Ali told me she will be leaving the Project to have a baby – good news for her bad news for the Project. They are now looking for a replacement. At the end of this article is a link with more details for anyone interested in finding out more.
"They will be called Oaks of Righteousness, a planting of the Lord for the display of His splendour." (Is 61:3)
To be set free
This is the dream for those of us who work for King's Arms Project, Bedford – to see the lives of the homeless, the addicts, those trapped in mental health problems, debt and their past, totally transformed, set free to be the person God created them to be!
Take my friend Tom for example. 8 years ago Tom was staying at the Nightshelter: angry, addicted and homeless. Back then he was one of the most intimidating guys I knew. I remember walking to the Nightshelter, praying he wouldn't be there! But in time of personal tragedy, Tom accepted Jesus, and God began to work powerfully in his life. These days, Tom is one of our most experienced and gifted support workers. Built into The King's Arms Church, he married and has a beautiful daughter. He laughs a lot, prays with passion and is someone you can always count on. He has a huge heart of compassion, and a natural and genuine approach. Tom is a genuine Oak of Righteous! The Bible gives us vision not only to help the poor, but to believe God for their lives to be transformed, and then for them to be the ones lifting up others.
Natural and Supernatural
While leading the Project I've felt God's vision for us is to press into the perfect combination of excellent practical support and the promise of supernatural breakthrough. We are called to demonstrate God's love in everything from paperwork to prayer!
Called to excellence
Knowing we're called to excellence we work closely with the local town council and other agencies, building relationships and sharing best practice. Supporting individuals who often have complex needs, we try to be creative and tenacious in our approach:
In our Nightshelter we host a GP, dentist and a nurse's clinic, we have housing clinics, a visiting law firm and hold inter-agency meetings.
Our rough sleepers worker goes into parks, toilet blocks and town squares to work with those who won't engage elsewhere, building trust and drawing them in.
In our hostel we work with drug and alcohol teams, invite in a counselor, and try to think creatively about how to include someone, rather than exclude them through our structure or inflexibility.
Our outreach meal has a 'no-one-gets-barred' policy, with no rules, just the principles of responsibility and respect.
Our 'Encounter' meeting is exclusively for those who want to Encounter God. We have exciting, relevant teaching, 'straight to the point' ministry and heartfelt worship.
Fulfilling activity
Realising that boredom and a lack of self-esteem are just as lethal to lasting change as any drug or medical problem, we have been creating courses to tackle these challenges, for example:
'Earn a Bike' where each person works on an abandoned bike (donated by a rail company), learns how to do it up and care for it, then gets to keep it at the end, thus making them more mobile and independent.
'Pre-Tenancy Training' including dealing with neighbours and bills, fire safety (at a fire station!) and certified First Aid.
Church based
King's Arms Project has an amazing legacy; it is at the heart of King's Arms church, Bedford. Begun in 1989, the Project has always been on the front line, expecting God to break in radically, living by faith and trusting him to fulfill his promises. Some days we just see moments of tiny breakthrough, like when the entrenched rough sleeper who couldn't sleep unless he slept on the floor next to his bed, finally moved into a bed after 2 months. Other days we see miracles, like the young man who had bitten off the end of his tongue in a road accident who was told it would never change and his speech would always be impaired. One of our team prayed with him for healing; he came back a few weeks later and his tongue was completely restored!
Whatever their background, our aim is that every person we support is genuinely accepted, loved and valued. We help them discover what they want to change in their life and pull out all the stops to see that happen. Whether someone wants to know Jesus or never wants to hear a word about him, our job is to demonstrate his love in the way we serve, support and honour them.
Wanted – New Leader
We are looking for God's next leader to oversee and take King's Arms Project forward! Someone passionate, dedicated and full of faith to fulfil the role of Chief Executive Officer. Closing date 13th July.
Tweet This