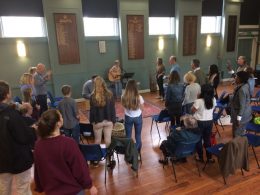 For twenty months my wife and I have been meeting in a home with a group of believers in Bath, UK, now called The Gospel Collective. Last Sunday afternoon (Sept 11th) we met for the first time in a public setting – The Beechen Cliff School hall. It is exciting to be caught up in pioneering again!
On the same day The Kings Church (mid-Sussex), that was first planted out of our home 40 years ago, celebrated their anniversary – a fascinating coincidence of events on the same day! That church was the first one Terry Virgo planted before the thought of a church family, which became Newfrontiers, even existed. Some of us who were part of that first church met in Terry and Wendy's home recently to reflect on the early days and the following 40 years.
This video opens with Terry and me visiting our old home before capturing some of the reflections of the wider group. From those small beginnings has arisen a worldwide family of well over 1500 churches in more than 70 nations.
I wonder what the next 40 years will bring as my generation enjoys watching the next one carry the baton, even passing that on to their successors.
Run well. And I will run with you as long as God gives strength!
Tweet This