We have been looking at 20 Key Indicators of Good Practice. In previous postings we have considered 8 Indicators that are peculiar to the church and spiritual matters related to ministry embracing the poor. Now we shall consider some of the skills that enhance Good Practice and enable us to pursue excellence in all that we do.
There are 12 key Indicators which we shall address under this heading. Only an overview will be given in this and the next series of postings but some of these will be dealt with in greater depth in future.
1 Project Cycle Management.
2 Finance
3 Mature leadership.
4 Responding to gifting/passion.
5 Pastoral support.
6 Training.
7 Impact.
8 Partnering/networking.
9 Local community ownership.
10 Sustainability.
11 Scaling up and multiplication.
12 Use of God-given Resources.
1. Project Cycle Management
Project Cycle Management (PCM) is a powerful tool for planning, implementing and evaluating a project or ministry in order to ensure a successful outcome. It is put into practice as a result of asking the following questions:
> Where are we now?
> Where are we going?
> How are we going to get there?
> How are we going to know we have arrived?
These questions lead us to the four key components of PCM:
1.1 Identification of what the project will focus on
There are many ways of determining this but two powerful ways of making the decision are by
a) carrying out a needs assessment and
b) defining what resources, particularly personnel, are available to you.
A needs assessment is carried out by discussion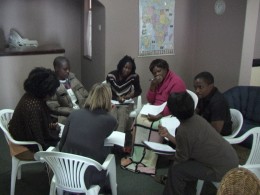 and consultation. This could involve the local community, potential beneficiaries and other interested parties (stakeholders) as fully as appropriate. It is very easy to assume a particular need from outward observation but discover that the felt need is different on closer examination.
On occasion the perceived need may well be the one to be addressed at a later stage but meeting the felt need may be the point of access to the community.
Looking at the personnel resources available can also be another indicator of an appropriate project. This will be considered with Key Indicator 4 – Responding to gifting/passion.  
1.2 Planning and design of the project
Planning is a major topic and some specific techniques will be addressed in future. However, it should result in clearly defined objectives, all the key aspects of how the ministry will be carried out, a timeline, a financial budget and much much more.  
It is important to spend sufficient time on this process as it will affect the very foundation of the future ministry. If planning is inadequate there will be much frustration that results, much waste of resources and often the need to dismantle a ministry and to start again. Planning and preparation represent a vital investment into the future success of the ministry.
1.3 Implementation
Once the plan has been well thought through and the foundations established it is time for implementation. Throughout the implementation of the ministry there should be regular opportunities for monitoring progress. This ensures that the anticipated programme is being followed and allows for adjustments to be made if either external conditions or other matters are likely to affect the achievement of the goals or to cause unavoidable delays.
On a journey it is sensible to keep a close eye on the signposts to ensure that you have not taken a wrong turn which can result in many lost hours and much frustration. A correction at an early stage can save much inconvenience.
1.4 Evaluation
There is always much to learn from any experience. Such learning is one mark of wisdom! Evaluation is carried out at the end of the project, or after each significant stage, in order to define the lessons which may be learned both for the benefit of future projects within the church and of others who may want to start a similar ministry.
We shall return to PCM at a later stage but if you cannot wait I suggest you refer to the excellent publication from Tearfund. Book 5 in Tearfund's 'Roots' series is entitled 'Project Cycle Management' and is available on line in various languages. This book gives very clear details of how to carry out the PCM process:
http://tilz.tearfund.org/Publications/ROOTS/Project+cycle+management.htm
Tweet This