We live in an age where sustained reading is becoming less common, where people expect sound bites and a high level of graphics. Reaching people with the Bible in written form is becoming more and more challenging. With this in mind I was excited to learn of a project being carried out by a member of the City Church in Bristol (pen name Simon Amadeus Pillario) who is taking significant portions of the Bible and reproducing them word for word with comic illustrations of the highest quality.
Comics are one of the most rapidly rising areas of popular communication, not, as might be expected, only among children, but among those in the 15-40 age groups. So this initiative is very timely, providing a resource to reach out to a section of the community which has a high percentage of unchurched people.
Attention to accuracy
Simon is paying great attention to detail. 'The material is Historically accurate, unabridged and an untamed graphic novel of the Bible with a high view of scripture. The word-for-word comic presentation of the Bible is like a commentary or an illustrated encyclopaedia; its commitment to present the scriptures as authentically as possible determines its dedication to the historical and geographical accuracy and the importance of every word of the Holy Scripture'.
Judges
The first instalment is the Book of Judges; here is an extract from the story of Samson (nb poor graphic quality is due to my blog not the original material).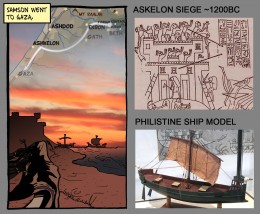 Crowd funding
The following video gives some insight into the project, which also includes an opportunity for people to become involved through crowd funding.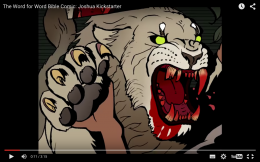 Commendations
A recent press release reads: "His passion is to get God's Word, in full, into the hands of believers and comic lovers aged 15-40, in the hope they will come to really know God.
With so many young people leaving the church in their late teens this work aims to bridge the gulf between kids' Bible stories and the actual text of the Bible. In addition, it will be in-depth enough to act as a visual Study Bible for mature Christians and exciting enough to reach comic readers who would never enter a church."
I encourage you to support this project, as does Terry Virgo:

"The Word for Word Bible Comic is immediately arresting and I cannot help being impressed by the thorough going commitment to research and the Biblical text in order to make it as accurate as possible".
For more information go to www.wordforwordbiblecomic.com or email wordforwordbiblecomic@gmail.com
Tweet This