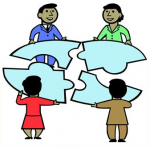 Together > Equipped > Achieve > Mission
Working backwards through the TEAM mnemonic – Together > Equipped > Achieve > Mission – we have dealt with Mission and Achieve. We now need to examine how to determine the makeup and dynamics of the team to allow us to be best equipped to achieve our mission.
Diversity of People…
We are all made in God's image. Isn't that amazing? So the infinite diversity of characteristics, personalities, temperaments etc of people merely reinforce how wonderfully diverse God is in all His attributes.
…complementary gifting
Nevertheless, a good team contains members who complement one another. No football team would have great success if all were goal-keepers. Strikers and mid-field players are also essential. Sometimes, when creating a team, it is tempting to draw people into the team who are like-minded with yourself. It can be more comfortable that way. But it is vital to see that we need diversity in the team in order to have the range of skills etc needed for the team to fulfill its purpose.
In the last blog I illustrated this concept with our church trustees. We needed someone with building knowledge at a time when we were engaged in developing a building. We appointed a surveyor who proved to be of great value.
Terry Virgo's teams
As I have worked over the years with Terry Virgo he has never drawn around himself simply 'yes' men. He has deliberately had a diversity of gifting on his team. One of the reasons for first creating the team that has been leading Newfrontiers for over 30 years arose out of the challenge that came from a friend to have people around him with complementary gifting according to Ephesians 4. Indeed, the term 'apostolic team' naturally takes us to Ephesians 4:8-16 where Paul writes about the ascension gifts of Jesus (apostle, prophet, evangelist, pastor, teacher) being provided to the church to help equip the saints for the work of ministry. To some extent Terry's core teams have always had such combinations of gifting.
Profile
So, what sorts of gifting should we be looking for? There are many aspects of a person that could be considered but I have found the following six distinct categories are worth considering:
Skills or talents
Spiritual gifts
Spiritual maturity
Time availability
Temperament
Heart's desire
These do, in fact, also provide a good check list for any believer, and elders may find it useful in helping people in their churches identify where they are able to serve. A good team should display a healthy combination of all of these. In a team, some of the categories, such as spiritual maturity, should be evident in all members. In other cases, such as skills and spiritual gifts, a wide range is usually beneficial.
In the next blog I will begin to address each of these to see how they can be combined to create an effective team.
Tweet This
Tags: Newfrontiers, Terry Virgo