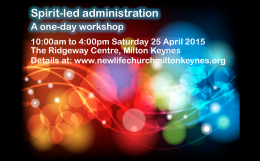 Don't miss the 30% Discount!!
For the early bird discount you need to book by midnight on Friday 10th.
Have you booked yet?
Are you coming yourself? If you are a church leader are you sending people? Elders would find the day particularly helpful as it will help you to know how to encourage and manage your staff in ways that will release you to be more effective. Why not come as a team?
Programme of workshops
As well as the all-together sessions, including the opportunity to receive personal prayer, each participant will be able to attend two workshops:
> Time management
> Managing, supporting or leading change: staying connected to the Father's heart
> Identifying, recruiting and training volunteers
> Building an admin team
> Communications and creativity
> Give your organisation a spiritual healthcheck
> Leading yourself and working out of rest
> Dealing with difficult people
Book Here
Tweet This