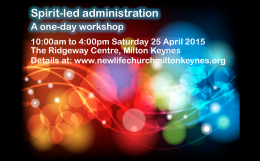 Good, spirit led administration is a vital ministry in any church that wishes to grow. If well focussed this gift allows the leadership to give themselves to fulfilling their God given role as they release many of the practical matters necessary to achieving a vision to those who are gifted and called.
Equipping, Fellowship and Prayer
The annual Spirit-led Administration Workshop has now become well-established in the Newfrontiers calendar. It provides a valuable opportunity to bring together those who serve the local church and wider spheres for a day of fellowship, equipping, sharing experience, networking, praying and enjoying being with like-minded people. It is for people who are in any way involved in administration. It is also for elders as it gives insights into how they can best be served and released into their areas of gifting.
The day will include main sessions to bring vision and encouragement, and also focussed workshops on topics of particular interest. Thus, people will leave the day ready to face the next challenges!
Prayer and Prophetic encouragement
Of particular value is the opportunity for prayer and personal ministry which is intentionally built in to the programme. Those who serve the church administratively often find themselves in relative isolation – these days help address that situation.
Booking
Book in here to get the 'early bird' fee level. Pass on these details to your friends and colleagues! Don't miss out!
Tweet This