Recently I had the gr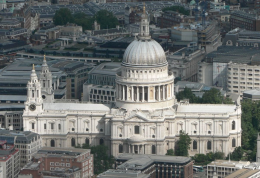 eat joy and privilege of spending a few hours with Ben Virgo of Christian Heritage London (Terry and Wendy's son) as he walked with my sister and myself around some of the Christian landmarks in the City of London. But he did not talk so much about the buildings as the men and women who were pioneers and martyrs in their generation, and in whose wake we now enjoy so much freedom and understanding of the scriptures. As one who failed history at school I found this afternoon with Ben both fascinating and edifying. I can't stop telling people about it! Let me share some of the highlights.
Wycliffe, Tyndale and Wesley
Starting at St Paul's Cathedral, where Ben told us about Wycliffe and his first translation of the Bible into English, we quickly moved to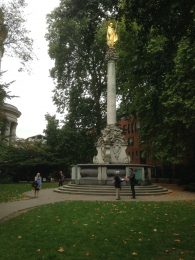 Paul's Cross where the first translations of the Bible by William Tyndale were burnt after he had had them printed in Belgium to which he had fled for safety and sent to London. Ben also told us much about John Wesley, both his ministry and his personal life, describing the extraordinary distances he covered to share the gospel with those who were poor and in need, particularly in London, Bristol and Newcastle, a triangle of cities he regularly visited on horseback. Incidentally, Ben pointed out how nearly all the people he was talking about had a passion for helping those who were poor, a notable aspect of the impact of the gospel in this country and around the world.
Newton and Wilberforce
Then, wending our way through some of the older streets of London we came to St Mary Woolnoth Church. Here Ben shared the story of John Newton (writer of Amazing Grace), first press-ganged into the merchant navy, then becoming a slave ship captain, before finding Christ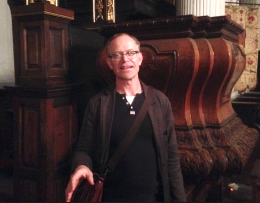 and ultimately becoming rector of St Mary's. While there he was influential in guiding William Wilberforce to champion the abolition of slavery and the slave trade, something he achieved shortly before his death. We took the opportunity to pray for the nation standing in front of the pulpit from which Newton preached – what a privilege!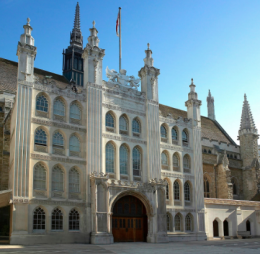 Reformation in England
Moving onto the Guildhall we were told of the history surrounding Henry VIII as he sought to annul his marriage to Catherine of Aragon. This triggered the Reformation in England purely as a convenience through which he achieved his purposes. Only later did it take hold as a spiritual awakening. We also learnt of the trial of such reformers as Latimer and Ridley, which took place in the Guildhall. Coincidentally our walk was taking place on the anniversary of their being burnt at the stake in Oxford in 1555.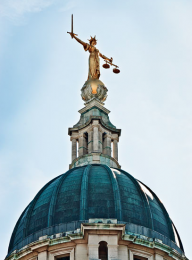 Elizabeth Fry
Moving through Smithfield, the site of many similar executions in the mid 1500s, we finally came to the central criminal court, The Old Bailey, standing on the site of Newgate Gaol, the women's prison in which my ancestor, Elizabeth Fry, had such an impact as she went into the gaol to read the scriptures to and support women, many of whom were condemned to death.
I cannot recommend this walk highly enough! I have shared only a few small snippets of what we learnt on that day which was communicated with such passion and life. Everyone should go on this walk! How about giving it to a friend for a Christmas present? Go to Book a Walk
Thank you Ben.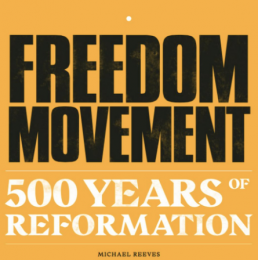 Footnote
Have you yet bought a copy of Freedom Movement? As we celebrate the 500th anniversary of Martin Luther posting his 95 theses on the church door in Wittenberg I urge you to do so. You will find it really helps you grasp the history of that period.