In the coming weeks I will share how I believe churches can carry out excellent ministries with the poor. I believe that is on God's heart.
It is good
At creation we repeatedly read that God looked on all that he had made and declared it to be good (Gen 1:4, 10, 12 etc). Sadly, when the world looks at the church today it expects to find irrelevance or second-rate performance. The media often ridicule the church and Christians. That should not be!
On my business card I have as a tag line 'Pursuing Excellence'. If we are to be witnesses to Him and all that He has done we should expect the world to look at us and all that we do, and be impressed – not by us but by what they see of Him in us.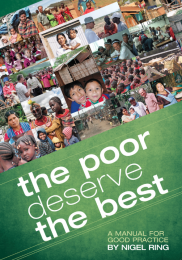 The Poor Deserve the Best
I have worked for many years with churches as they have sought to express God's love for the poor in their communities in a tangible and compassionate way. My desire has always been to do this to the highest standard, hence my book 'The Poor deserve the Best' (now out of print but available from me in photocopied form – see side panel). There is much good work done by aid agencies and others but I look for the day when the world comes to the church to learn how to love and care for the poor. After all, we have the 'secret ingredient' of the gospel, the message of eternal hope that no secular agency, however, good, can lay its hands on.
As I have had the great privilege of travelling among many churches in India, Africa, Russia, Latvia, Mexico and so on I have repeatedly seen ministries that have impressed me. The selfless love and care that has been demonstrated by the staff, many of whom give of their time freely and willingly, is challenging.
Strategic Task Team
Some years ago I was asked to partake in a Strategic Task Team to look at ministry with the poor within the Newfrontiers family of churches, serving under my good friend Steve Oliver. Having lived for many years in South Africa he knew poverty first hand in a way that I had never experienced; poverty In Africa is 'in your face'. He asked me to lead an initiative within that team to develop 'good practice' in ministry.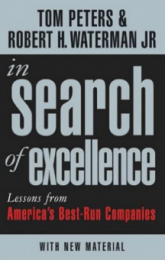 In Search of Excellence
As I considered how to do this I was mindful of work I became aware in the secular field in the '80s when two management consultants, Tom Peters and Robert Waterman, carried out research on businesses and services that people generally judged to be good. Their thesis was that if they could identify what it was that allowed such a judgement to be made they could teach others and raise the standard in other businesses.
Ministry Health Check
I liked the philosophy! What was it that I was seeing when I visited ministries in different parts of the world that allowed me to return home and extol their virtues? I set out to identify the Key Indicators of Good Practice that I often observed in successful and 'excellent' ministries. These became the foundation of two tools I developed: The Ministry Health Check, and Planning Foundations. By taking these 20 Indicators and using them as reference points it became possible to evaluate ministries and help the ministry teams to identify ways in which they could bring about improvement to the benefit of those they were seeking to serve.
Next time I will describe some of the ministries which have taken part in such evaluations.
Tweet This