Last time I proposed that a church's ministry with the poor should be excellent. Let me now share some ministries in which I have helped develop Action Plans for further improvement of what were already good ministries.
School
In Guinea, in West Africa, I helped evaluate a church-based school with which I have worked for many years. Originating out of the Sierra Leonean civil war of the '90s and into the new millennium, when many fled over the border to neighbouring Guinea. The school was started out of the church which was planted in the capital, Conakry, to serve the refugees. There are now well over 300 children attending ranging in age form 3-26. Many of the older ones have missed so much school due to civil and political unrest that they stay on until they pass their exams. Click on photo to see a video.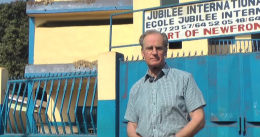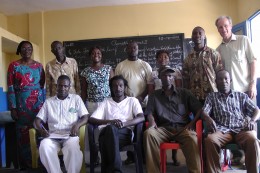 Gathering the staff I helped them look at key issues and produce an Action Plan for improvement, a process that is on-going, often hindered by circumstances, most recently by the effects of ebola which closed the school for many months.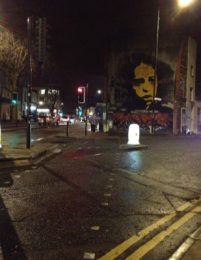 The Sex Industry
The process is not only applicable to nations outside the UK. There is plenty of need in my own country. A few months ago I worked with a team who have had remarkable favour in having access to the massage parlours in one of the big cities. Two days with the team allowed us to examine what they were doing and to project ways of improvement. Many of their suggestions have already been implemented, but the process is on-going.
A Soup Kitchen, and a Mother and Toddlers Ministry
More recently I have worked with another two churches. One has been reaching out to street people with love and practical provision of food, clothing and a listening ear. The other is on an estate with many dysfunctional families and situations, and runs a Mothers and Toddlers group with food, games and an ability to listen and signpost people to ways that bring hope.
In each of these ministries we have been able to write an Action Plan for improvement, some parts of which are quite radical involving scaling up, changes of staff, new premises and so on.
As we move forward I believe that each of these ministries will become models of good practice to which people from other churches and the 'world' will come to seek advice and be trained to reproduce the benefits which will become evident.
Over the next few weeks I will share some of the principles and processes that I use.
Tweet This