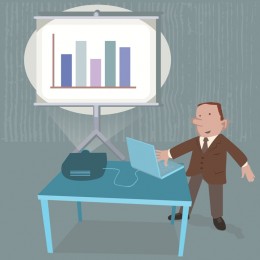 Having looked at some of the potential pitfalls and started to look at some 'How tos', we will continue with design matters and then conclude with some presentational issues.
Design
The graphic element of design becomes a matter of personal preference. I encourage clean uncluttered graphics as far as possible, choice of colour etc being important to ensure good contrast, particularly as presentations may be made in daylight conditions without good blackout. Also bear in mind that some of the audience may have visual impairments so avoid using colour to convey meaning unless you know the audience have no problems.
Backgrounds seriously affect readability. Some guidelines are:
In dark rooms it may be best to use a dark background and light text.
In light rooms the reverse is true ie a light background and dark text.
Avoid patterned backgrounds – they make reading text more difficult.
Keep the same background colour throughout the presentation.
Navigation
How you manipulate the presentation when you are on your feet depends on your confidence level. If you are happy to interact with people it is helpful to be able to 'move around' the presentation, perhaps in an order you had not envisaged. Also, there are times when leaving an old slide on the screen while you deal with another matter can be distracting, so it is helpful to know how to turn the screen black or white with ease.
There are various quick ways of achieving this flexibility, but I encourage you to practice beforehand! Also, make sure you have a numbered printout of the slides in your notes so that you can quickly locate a particular slide e.g. in a training workshop.
Some particularly useful 'quick keys' are:
Next slide = N, Enter, Spacebar, ?
Previous slide = P, Backspace, ?
Go to slide "number" = "number"+Enter
Black screen = B
White screen = W
It is also possible to 'hide'/'unhide' slides (preferably in advance of the presentation) so that you can vary the number you use according to circumstances without losing the order of your slides if the presentation is one being used on various occasions.
Ambitious?
For the more ambitious there are some additional features that make a really smart presentation, such as embedded video. This allows a seamless transition from a static slide to an illustrative video. But if you do use a video that is not your own creation don't forget to check the copyright regulations first – it could prove expensive if you infringe copyright! Also only certain video formats are accepted, but this is beyond the scope of this basic handling of PowerPoint and I advise you to ask someone 'techy' to help you.
Conclusion
Visual presentations can add greatly to the ability to communicate information. But never forget that PowerPoint supports rather than replaces or competes with a live presentation by you, the speaker.
Master it – don't become its slave!
Tweet This
Tags: Presentations