Continuing to consider the Logframe as a planning tool we shall now look at the left hand column of the Logical Framework Matrix:
Goals
Purpose
Outcomes
Activities
Goals
In the development world the Goal may arise out of a national or sectoral policy e.g. HIV in sub Saharan Africa. However, it need not be this far-reaching. A city may have the goal 'to halve the number of those who have multiple deprivation in the city within five years'. So the church's ministry should fit into this Goal.
Purpose
The Purpose, which contributes to the fulfilment of the Goal, could then be focussed, say, on those who are homeless, one category of those who are multiply deprived. This is the case in Brighton. So the specific Purpose could be expressed as 'To enable those who are homeless to be equipped to move from dependency to independent living'.
Outcomes
The Outcomes from the Activities that you will be carrying out could then be 'To provide a safe and positive environment in which people can experience emotional healing and be equipped for independent living'.
Activities
Finally, the Activities are what you will actually be doing on the ground. So these need to feed into the Outcomes as a contribution to the overall Purpose and Goal and these Activities are suggested by the Solution Tree.
Let us assume that we continue the illustration we considered with the Problem and Solution Trees, namely helping to improve the circumstances of those who are homeless. Although there are usually multiple reasons why people are homeless let us assume for the sake of illustration that it is because they are unemployed and lack self-discipline. First, the reasons for unemployment may be that in days of high unemployment they are under-skilled and they need empowering by training. Second, the chaotic life-style may be due to previous substance misuse (drugs etc) and so they need the disciplines that are necessary to make them attractive prospects for a potential employer.
Example
Combining these two problems we felt in CCK, Brighton, that a good ministry would be to develop a rural apprenticeship scheme in a residential setting to take people out of their tempting environment (drugs, alcohol etc) in order to learn disciplines of time-keeping, hard work and so on. Accordingly we are planning Activities for developing a discipleship programme within a rural environment. This will include an apprenticeship scheme and learning basic skills such as budgeting.
In reality there would be a long list of activities such as the preparation of the apprenticeship scheme, writing of materials, finding partners with whom to work to give work experience in due course, and so on. The illustration does not need all the detail to demonstrate the principles of a Logframe.
Taking these Goals, Purposes, Outcomes and Activities, and adding them into the Logframe, the left hand column now looks like this.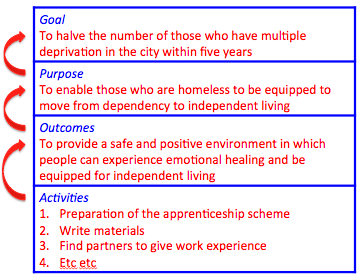 Next time we will look at the assumptions that have to be made in order to be able to fulfil these various aims. Any donor is particularly interested in these assumptions as they are indicators of the risk he may be taking in investing into this ministry.
2 Footnotes
1. The situation in Kenya continues to be dire. Please continue to pray for them. I had a text message from Edward today which reads:
After geting deeper in Samburu and encountering more sad stories of loss of life and animals..seeing children n adults who havent washed 4 over 2 months 4 lack of water with many contracting serious skin and eyes problems..the government has now said its oficial that over 5 milion kenyans are afected by the draught n its effect. As i prayed ths morning, God echoed in my spirit words that have kept me moving on every time we have found ourselves in a crisis the last seven years..each time God ud tell me like Queen Easther that FOR A TIME LIKE NOW, HAVE I BEEN RAISED. I will faithfuly keep on serving God and His people. We so much need prayers as the prioblem remains and continues to escalate. Thanks. edward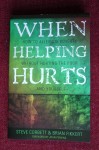 You can still help by giving online
2. The book When Helping Hurts, which I very strongly recommend, is now available at a good price from Newfrontiers Online Shop
Tweet This
Tags: Drought, Famine, Kenya, Planning, Poor, Relief and Development