I am so grateful to all those who have contributed to the appeal for the Philippines. Several individuals have contributed and there are also some churches who are taking offerings over this Christmas season. It is still not too late to make a donation. Just contact me through the address in the side panel.
Eden Singson, who leads the Grace Community Church in Manila and, with his wife Fe, is coordinating the work being done with this fund has just sent an update. Fe has professional expertise in helping people develop income generating skills, a very appropriate gifting for this situation.
Since receiving this report I have heard that they are now planning to launch a fish drying business (using coconut husks to burn) in order to create income for several families. They are buying a special unit to do this. This is the way they preserve their fish and send it to market, even to Manila.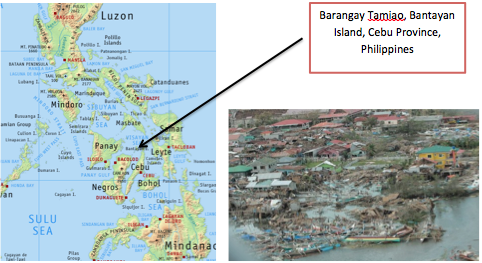 Typhoon 'Yolanda' or Haiyan made its fourth landfall over the island of Bantayan in the province of Cebu last November 8, 2013 at 10:40 A.M. and she swept at least 90 percent of the island, wrecking nearly all the houses, schools, infrastructures, poultry and piggery farms, and the biggest feed mill in the island. Haiyan destroyed 95 to 98 percent homes in Bantayan and left a number of casualties. Bantayan Mayor Ian Escario estimated that it would take two to three months for the whole island to recover.
Before this trip, our church member, Danny Santillan, who comes from the place went home to assess the condition of his family. He came back with an assessment of the situation that helped us identify what needs to be done to alleviate their pathetic condition.
We immediately identified the need for food, medicines and to reconstruct their homes. Cecille, the wife of Danny helped us look for a grocery store where we can buy the groceries and the supplier of the building construction materials.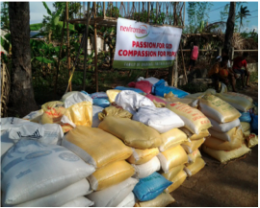 December 6, Friday afternoon, we gave rice and grocery packs for the residence of Barangay Tamiao with the coordination of the community chieftain. The pack contains twenty five kilos (25) of rice, ten cans each of meat loaf, corned beef, sardines; ten(10) pieces of packed noodles, three-in-one coffee and milk. The people beamed with smiles as they carried the heavy relief goods. They declared that they never experienced receiving such big supply of basic commodities. Aside from these grocery items, we also gave assorted medicines for headache, fever, flu, and diarrhea.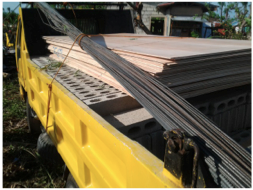 The next day, we gave building materials like cements, rebars, hollow blocks, common nails, lumber and corrugated sheets for the two (2) houses totally destroyed by the typhoon while the rest of the ten (10) families received plywood to replace their dilapidated bamboo walls; corrugated sheets to replace their nipa roof aside from lumber, nails and cements. An elderly woman became emotional and approached us saying that she would like to build an arch at the entrance of the community and put the words 'House of Grace" in honor of the help extended to the community. I was touched and I simply hug her in reply.
We also helped a fisherman whose boat was destroyed by fallen coconut trees at the height of the storm. We bought construction materials to rebuild his boat and planned to help the rest when we will visit them at the end of this month. We extended funeral assistance to a bereaved family and provide milk and vitamins rich in iron and calcium for pregnant women who have nutritional deficiencies.
This is the first phase of the series of assistance for the people of Bantayan. In our next visit at the end of the month, we will monitor the progress of the house construction. I will go back together with my wife, Fe who has the experience in putting up livelihood projects for sustainable development. This time, our theme will be From Food To Shelter To Livelihood.
There will be more visits next year to assess the development of this project. There is more to do with resources available and we believe this will be a long term project. I will update you all for every progress we achieved and we expect people to see a change not only through social action but real transformation that comes from God. Again, from the bottom of my heart, thank you for your generosity, support, prayer and love. You are all part of this God-given endeavour.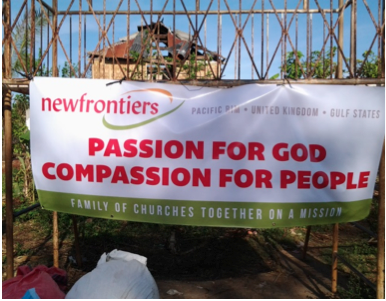 Prepared by:
Edencio S. Singson
Newfrontiers Philippines
Team Leader-House of Grace
Tweet This