The Poor
Since this is a personal reflection on the past decades it is important to mention a sermon preached by Simon Pettit in 1998 at the Leaders Conference which deeply affected my life and the lives of many others. Simon spoke from Gal 2:10 'Only they asked us to remember the poor, the very thing I was eager to do'. Through this he exhorted us to see that 'remembering the poor' was an apostolic mandate. No sphere or church should ignore the plight of the poor if it is to fulfil its Kingdom role to its community. No one who was present could have failed to have been impacted by that preach. God had clearly spoken to us as a movement.
Act 2000
The result was the launch of a one-year initiative, Act 2000, to help UK based churches engage with the poor in various 'model' ministries. Then, on March 23rd 2000, while I was in Guinea in West Africa, God woke me and spoke to me about becoming actively involved in helping Newfrontiers churches internationally to reach out to the poor with excellent ministries, the very thing that I too 'was eager to do'. Even as a child I had a heart for those who are disadvantaged.
Act Together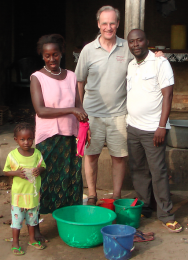 Having weighed this leading with Terry, and both the UK and international apostolic teams, I was commissioned to launch a five-year initiative Act Together to initiate the fulfilment of this mandate. Since then I have had the privilege of travelling widely, particularly in India and Africa but also to Mexico, Philippines, Russia and other nations. This is a passion of my heart and I do not believe that my current move represents an end to that ministry.
The future
I could write so much more! Clarendon Church, now Church of Christ the King (CCK), has a vibrant and godly new eldership led by Joel Virgo. On a Sunday 13-1400 people regularly gather across four sites in nine meetings. There is a vision to see both the city reached with the gospel and the fulfilment of another prophetic word that, as the tree is fed and the roots are established, branches would grow which could be fashioned into arrows to be fired to the ends of the earth.
Much of the ministry of the church reaches into the student population; there are two universities in Brighton and many other colleges. My own passion for the nations has caused me to become involved with the post-graduates, many of whom come from other nations. I and others have sought to impart truth and Kingdom values into them so that as they return to their homes they take with them some of what God has taught us over the years.
There are also some vibrant ministries to those who are poor or disadvantaged, particularly those who may be homeless or out of work and need help to be made 'job ready' by training and building some discipline into their lives. Others have suffered the trauma of abortion or miscarriage and, working with other churches, we have a long-established ministry of compassion and healing.
Moving to Bath is an exciting new adventure. The Living Hope Church is much smaller than CCK and I look forward to seeing what God has for us to do there. I expect to continue to minister overseas as God gives opportunity, and also within the UK. On my business card I have 'On mission with Newfrontiers'. I believe that is still our calling – local and international. May both Janita and I run like Caleb and burst through the finishing tape whenever the end comes!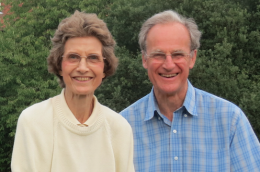 Meanwhile, as we have now left Brighton and Hove it is with a great sense of fondness and gratitude that we say 'farewell' to CCK, our home for 33 years. May God continue to bless you abundantly!
Tweet This