Prayer
One key element of the growth we were experiencing can be attributed to prayer. I mentioned in the last posting that Clarendon Church had dynamic prayer meetings. The same was true for Newfrontiers where regularly, on a Thursday morning, leaders from Newfrontiers churches in given geographical regions would gather to pray together. There were also two days of prayer and fasting three times per year to which Terry invited all church leaders. At these days substantial time was given to worship, seeking God through intercession and listening to his voice through prophecy. Indeed, much of the development of the family of churches came through prophetic revelation, which was carefully weighed in a biblical fashion.
John Wimber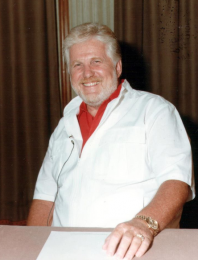 In the mid-80s we started to have regular visits by John Wimber from USA who was being mightily used by God to bring an understanding of healing to the church. Indeed, the first conference we helped him run at the Brighton Conference Centre was entitled 'Healing in the Church'. Through this and subsequent conferences we learnt about and were equipped in an expanded Holy Spirit energised understanding of local church. This was underpinned by various books which Terry wrote: Restoration in the Church (now out of print), No Well-worn Paths, God's Lavish Grace and, more recently, Spirit-filled Church.
Stoneleigh Bible Week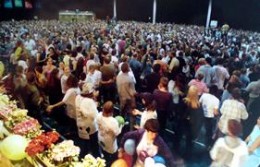 Following the EGG tour (Enjoying God's Grace) God spoke to us about starting a new Bible Week, and so the Stoneleigh Bible Week was launched in 1991 on the Royal Agricultural Showground at Stoneleigh, in the heart of the UK. For 11 years tens of thousands of people gathered (8,500 in 1981 growing to 28,000 in 2001) for teaching, envisioning and commissioning. These were mighty days of growing in understanding of God's purposes for our generation. Then, to our surprise, God told us to close the Bible Week and to 'Go to the Nations'. We were about 200 churches at that stage. Now Newfrontiers represents about 850 churches in over 60 nations so it seems that his strategy has been effective! (Exact numbers are not and cannot be known due to the need for confidentiality in some parts of the world.)
Leaders Conferences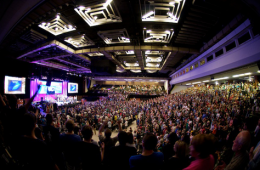 Since the mid-90s we have held international leaders conferences, Together on a Mission, initially in alternate years but, since the closing of Stoneleigh, every year until 2011. At the last of these Newfrontiers was redefined from being a family of churches to becoming a family of multiplied apostolic spheres. At that conference about 15 men and their wives were invited to come forward for prayer. These men were seen as those with proven apostolic ministry and they were commissioned to develop their own apostolic spheres with the exhortation to network with other such spheres. The centrality of Newfrontiers as one sphere looking to Terry would cease and the future would be built on relationship between these spheres. Thus Newfrontiers could continue to grow indefinitely without the encumbrance of any centralised management or administration.
In the final part I will return to my personal situation.
Tweet This