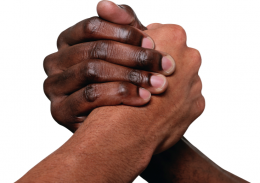 Last year I wrote at length in this blog about serving in the church and gave guidance about the course Discover and Serve. There is also a book of the same name. Please read that for more detail about how to help someone develop a Serving Profile.
In this series I am addressing the issue of volunteering from the perspective of a leader – how to mobilise volunteers. So far we have looked at what 'volunteer' means. Now we shall consider some of the practical day-to-day matters about identifying and managing a volunteer team within the church.
Vision
In Prov 29:18 we read 'Where there is no prophetic vision the people cast off restraint, but blessed is he who keeps the law' (ESV). Written in the context of the fruit of wickedness (v16), the disciplining of a son (v17) or management of a slave (v19) this verse emphasises the importance of each of us having direction and purpose if our lives are to be fulfilling and we are to realise our potential.
Vision is key to fulfilment
If we do not feel we are going anywhere life becomes very mundane. As has been said 'if you aim at nothing you are sure to hit it!' When we, as church leaders, seek to motivate people and see them stretched in their gifting in order to fulfil their God-given potential it is vital that we give them a sense of direction and purpose. If people just serve out of a sense of duty or guilt, or even because they feel sorry for the leader when he gets no response to a request for help, they will never be fully satisfied. I shall write more about motivation in a later blog but it is so important that we constantly keep vision in front of people provided it is tangible and attainable, not just a vague generalisation.
Everyone involved
Until recently I had the privilege of being a member of Church of Christ the King (CCK) in Brighton, a church that attracted about 1300 people on a Sunday and met across four sites. 60-70% of the people served the Sunday meetings, either in a high-profile way (preaching, leading worship etc) or in a less conspicuous but no less important way, welcoming at the front door, teaching the children etc. These people were often on a rota of, say, one Sunday in four. As such the commitment was not too burdensome (many had very highly demanding jobs or were home-based, fully committed to raising Godly families) but, provided the 'match' between gifting and serving opportunity was good, they felt fulfilled.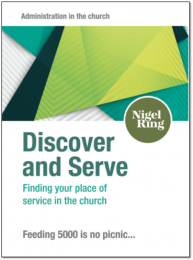 (The Serving Profile in Discover and Serve can help achieve this). Others, of course, served in various ways during the week – trustees, finance, office work, and so on. Thus the vast majority of the church members were actively involved.
Personally, I served on the 'welcome' team on a Sunday, looking out for visitors and helping make them feel secure and at home in our midst. I enjoyed meeting people and learning about them, as well as helping them to know what the church was about. I was also a trustee and at different times was involved in a host of other activities, often from an administrative perspective since this reflected my gifting.
Leadership responsibility
A leader's responsibility is to mobilise the army – and in the army there are no passengers. While some may need to be having wounds dressed for a season and at that time cannot be on active service, the aim is to get all soldiers active and functioning in their skill set as quickly and effectively as possible. So seeing people healed, where necessary, and mobilised are key responsibilities of a leader towards his people.
Next time we will look in more detail about how to motivate a volunteer team.
Tweet This