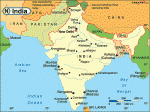 I love visiting Mumbai in India! I have been many times. One of the ministries that impresses and humbles me most is the ministry among those infected and affected by HIV. I have reported about this ministry on a previous occasion.
I have just received a full report of what was achieved in 2012. This is just an extract. Scan it and absorb the diversity, the love and compassion, and the holistic approach that Nelson, Pamela and their team bring to those who are often rejected by society. Ask God to touch your heart as you read.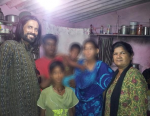 I will let Nelson tell the story.
What do we do?
Connect the HIV infected people to their families who normally disown them; often it takes months or years. Of the 47 people being presently cared for, 34 patients are accepted by their families, 13 are still rejected
Give ARV & other medicine related to HIV
Take patients to hospital and network with other NGOs
Buy rations (groceries) for distribution to families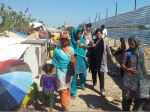 * Monitor all visits, and the medicine intake and nutrition
* Give a listening ear. (They just want someone to listen to them)
* Help those infected to cope with rejection from their families
* Connect children who are left to fend for themselves without parents to their near and dear ones.
Keep a check on the schooling of children and help them face the pressures of life
Arrange jobs for those who are jobless
Constantly remind patients to think positively & not give up on themselves
Share the gospel as and when the opportunity arises and see the people linked into the church
How do we do it?
Through Care….
About 10 infected & 24 affected children were given educational assistance – uniforms, books & school/tuition fees so that they could continue with their studies.
Asha provides the necessary nutrition on a monthly/bi-monthly /quarterly basis to infected people and affected families because of the intake of ARV drugs & heavy anti-biotic medicines.
Asha continues to give medicines (ARV drugs, antibiotics & vital vitamins) to many of positive infected & affected families.
Asha continues in the area of doing follow up in making sure the patients are taking their medicines on time and also making sure that they go regularly for their monthly ARV drugs to the government hospitals.
4 children in this year have lost their parents. Asha made sure that these kids are not left as orphans on the street but are connected & rejoined with their distant relatives.
We have also been able to care for the affected in their families (150 – 180 people).
….and Awareness
We were able bring awareness and prevention to over 400 people through home visits, group discussions in people's homes and through contacts of HIV infected friends.
A couple of testimonies:
"I could never imagine that my child would one day appear for her 10th standard exam. I had given up all hopes for my 3 children's education. I am extremely thankful to Asha – not only have they stood with us during our darkest moments, but they have always stood & encouraged us to look forward & believe Jesus for big breakthroughs".
– Gawde
"I am very glad now that I can get my 2nd line treatment from a government hospital. Thanks to Asha that has given me this link. Although I have to travel a distance & stand in a queue for my turn to get my ARV drug, I am not discouraged because Asha has now started to support my family with the nutrition that we need. Today my husband and I can breathe a sigh of relief knowing fully well that "God is at work in our lives"
– Rani
Tweet This