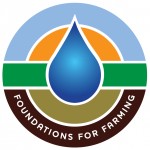 Saturday January 30th saw 80 people gather in Swindon, UK for a Vision Day on Foundations for Farming. We were greatly privileged to have Brian Oldreive, the visionary who has developed Foundations for Farming, with us for a day of envisioning and impartation of the Biblical principles around which Foundations for Farming has been developed.
Tobacco or Food?
Foundations for Farming, formerly Farming God's Way, has been developed by Brian over the past 3 decades in Zimbabwe. Having been a very successful tobacco farmer he was challenge one day by his daughter, 'Daddy, why do you tell us never to smoke and yet you grow tobacco?' He was so convicted that he never grew another tobacco plant!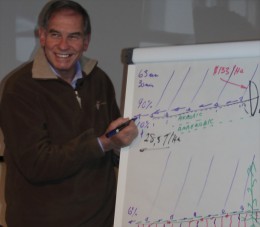 As he shared his personal history and walk with God we were conscious of being in the presence of someone who had covenanted with God to do only what he heard Him say. 'How do things grow if they are left to develop as God intended?' Brian wrestled with the contrast between the way man farms, and the devastating way that in years of drought the harvest is very poor, with the way God grows his crops, and the way that trees in the wood survive under the harshest conditions. He noticed how, in times of heavy rain, over 90% of it ran off the surface, taking the good topsoil with it. In contrast he observed how, in an untilled area, 96% of the rain was absorbed into the ground with minimal soil loss.
God's way
God revealed His way. This resulted in Brian developing 'new' (or old?) principles for farming, particularly:
No inversion of the soil (i.e. no ploughing)
Allow the previous year's dead growth etc to lie and decay into the soil etc
Since this revelation and new understanding Brian has experimented and established the necessary basic principles to bring optimum growth – what area of soil is required to support each plant, how much fertilizer (or termite hill soil) is required to feed the crop, and so on. He has taught both rural farmers and 'big time' farmers the same techniques according to the four cardinal rules:
On Time
To Standard
No Wastage
With Joy
The fruit of Faithfulness
The results have been amazing:
Rural farmers in Africa typically get yields 5-10 times as great as using traditional methods
65% of Zimbabwe's farmers had adopted the methods up to the time of the 'land redistribution'
Zambia was turned into an exporting nation in maize with a surplus of 400,000 tonnes about 8 years ago
Visual demonstration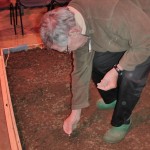 During the day Brian taught both theory and practice, the latter using a specially created demonstration plot in a warehouse next to the Gateway Church building – thank you Swindon for you hard work! To find out more go to the Foundations for Farming website (below).
Operation Trumpet Call
Another aspect of the day was the sharing by Adrian Willard about Operation Trumpet Call. This ambitious vision that is being worked out by Scott Marques and his team, together with the Evangelical Fellowship of Zimbabwe, is to feed 5 million people in Zimbabwe (the whole of the rural population) through teaching them Foundations for Farming within 5 years. This is being carried out on the basis of Training Trainers where by training 100 farmers who each train 100 the multiplication effect is rapid. The first phase has gone well with nearly 80% success.
We look forward to welcoming Dr Goodwill Shana, Chairman of EFZ, as one of our speakers at the Together on a Mission Leaders Conference in July in Brighton.
'If my people..pray..'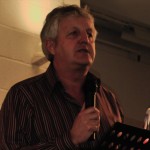 Adrian also shared about the exciting initiative to mobilise prayer for Zimbabwe. At the end of March Terry Virgo is joining Dr Shana to speak at two Leaders' conferences for up to 5000 Christian leaders. This will be followed up in late September with large rallies for tens of thousands around Zimbabwe. Through the day, and based on 2 Chron 7:14, there will be a worldwide call to prayer and fasting for Zimbabwe with opportunities for both Zimbabweans in the diasporas in different nations and others with sympathy for Zimbabwe to pray for the nation.
This is a tremendously exciting initiative – look out for more details as they are publicised!
For further information go to www.foundationsforfarming.org or contact Josie@foundationsforfarming.org
Tweet This
Tags: Christian, Foundations for Farming, Poor, Relief and Development