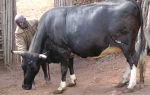 In my last three postings I have shared the philosophy and background of this initiative to bring transformation to the community in Burundi. Now here is a video. As you watch it look for the following ways in which this Social Enterprise can bring about transformation:
Income generation
Improved health
Children able to go to School
Adults have time to work the land
Employment opportunities
Restoration of the land to become more fertile
Transformational thinking
Milk for Transformation in Burundi from Newfrontiers on Vimeo.
This is an exciting initiative! To be able to scale up the processing capability there is need for capital funding. If you are interested in becoming involved please contact me at Nigel.Ring@gmail.com or Donna Bloomfield at info@hopefortomorrowglobal.org
Tweet This