We are very privileged to have Dr Goodwill Shana (who likes to be addressed as 'Shana') as a speaker at this year's Newfrontiers leadership conference, Together on a Mission (TOAM). Shana is President of the Evangelical Fellowship of Zimbabwe (EFZ) and has played a key role in bringing the church in Zimbabwe into a significant place of influence in this turbulent era in Zimbabwe's history.
Recently I visited Zimbabwe and had the pleasure of meeting Shana once again. On this occasion I was able to interview him on camera, although his tight schedule and the context gave conditions which were far from ideal for a high quality video.
This interview gives us an opportunity to meet the man who will be speaking to us in Brighton. I encourage all Newfrontiers leaders to watch this and pass the link on to friends.
Shana is an exceptional man. He is humble with an impressive leadership gift. As well as being President of EFZ he leads a church of 6000 in Bulawayo, which he planted, and oversees 35 churches in southern Africa and the UK. He is a fine Bible teacher.
Dr Goodwill Shana from Newfrontiers on Vimeo.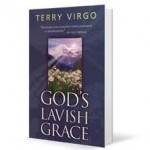 This week (March 22nd -26th) Terry Virgo is with him in Zimbabwe where Shana has arranged 2 leadership conferences in Bulawayo and Harare for Terry to teach the message of grace. Terry's book, God's Lavish Grace, has been translated into shona, one of the local languages.
These conferences will also be the context for the launch of Operation Trumpet Call, a nationwide initiative to teach Foundations for Farming through churches across Zimbabwe in the context of Christian discipleship, with the intention of feeding 5 million people within 5 years. So far 6000 farmers have been trained; the goal this year is to train 30,000.
On Sunday September 26th there will be a worldwide day of prayer and fasting for Zimbabwe lead by this coalition of churches, including the Newfrontiers churches. We urge all churches worldwide to plan to be involved in this unique initiative.
Tweet This
Tags: Foundations for Farming, Newfrontiers, Terry Virgo, Together on a Mission