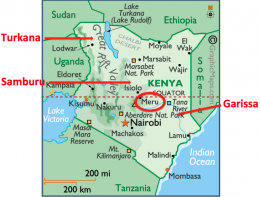 Following the recent massacre in Garissa I was in touch with Edward Buria, based in Meru, who leads an apostolic sphere within the Newfrontiers family. Knowing how, with the growth of Newfrontiers, some find it hard to keep in touch with what is going on in other apostolic spheres I thought you might like to read extracts of his response. I plan to give news from some other spheres in the coming weeks; I am privileged to be involved in several and can bring reports from a personal perspective.
Edward writes:
Terror attack
"We are a Nation in mourning once again after the 147 deaths of very precious young & promising Kenyans at the hands of terrorists. Like all other times, even in this grief we remain united as a Nation; it's in such moments when we also have to release our faith in God like Job who said even if you were to slay me I STILL WILL TRUST YOU. Let us lift our heads up knowing that our help comes from the Lord & at the same time be reminded that He will never leave or forsake us. Our God reigns and therefore victory does not belong to the enemy but to us! We have overcome in the past & even in this we are overcomes.
Drought
"Sadly this attack comes at a time the country has been facing a severe drought that triggered a massive famine that once again forced us to start relief supplies among our people in the most affected places. The famine overwhelmed our local response for me to once again make a passionate appeal to friends from outside Kenya." (What follows was sent to apostolic leaders several weeks ago.)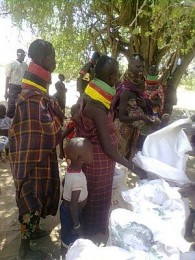 "One morning recently I woke up thinking to myself what another great day ahead! Filled my heart with songs of praise to God as usual & started to program myself for the day ahead. When I was just about to leave home for my office, I suddenly received a telephone call from our dear brother and co-worker in the Lord Jesus, Joseph from Turkana. From the way he sounded, I knew all was not well. He shared with me very disturbing news about our brothers and sisters who once again are threatened by death from the on-going famine in Turkana which happens to be the worst hit area in Kenya.
"The drought being experienced in some parts of the country is so severe as it has forced children (in the affected areas) to abandon schooling as their bodies are too weak to cope. Among the pastoralist communities, the government is asking people to sell their weak animals at whatever price they can fetch to avoid loosing all their animals to the effects of the drought.
"Hearing Joseph narrate the sufferings our brothers and sisters are facing especially the four churches located at Kerio Valley, within Turkana, my heart was so moved by all the sad stories that included hearing of lives actually being lost as a result of the famine. Pastor James who oversees 14 of our churches in East Samburu has also called with the same story of lives being threatened by starvation. Immediately I mobilised our better-placed churches to give any assistance possible towards this crisis. We have sent funds to Joseph & our teams in Turkana who have already purchased the much-needed children's food (Unimix), cereals (maize/beans) and energy giving food for immediate supply to the needy people."
Appeal
"The need is greater than our churches in Kenya can bear in terms of continued assistance until the situation normalises in the next few months. I find myself having to appeal for urgent assistance from our friends outside of Kenya."
If you wish to respond to this appeal donations can be channelled through Paul Wright at The Kings Church, Mid Sussex who have an on-going relationship with Edward.
Tweet This