Water in Samburu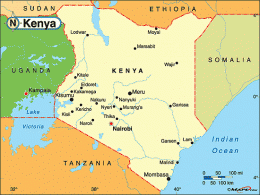 The rains have failed in April so the crisis continues. Yet there has come some recent hope of sustainable solutions for the future. Read this sms message just received from Edward Buria:
'We are so overwhelmed by discovering water in our Wamba centre and we are now sinking a 3 million (£30,000) bore hole that will supply water to thousands … also other good news is the Lengusaka sand dam project. We have done a lot of progress on that and hope to have all these projects commissioned before end of year'.
The Wamba Centre
Wamba is a key town in Samburu 4 hours north of Meru and in recent years Edward Buria and the Newfrontiers churches have established a major centre there to provide a base for training, health care, church meeting place etc. This has become a hub for the community in this area and has been the location from which food and water have been distributed during the current crisis.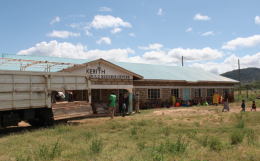 What is a Sand Dam?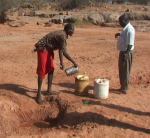 I have visited Lengusaka in Samburu several times. Here are some photos taken last year – the only occasion when I have seen water flowing in the river bed. Normally, the rains that come twice a year flow down this river bed for perhaps one week. Thereafter the only way of obtaining water is to dig into the sand and find the water caught in depressions in the underlying rock.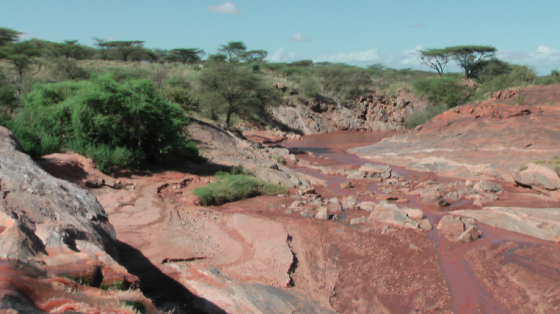 A sand dam is created by building a low wall across a neck of land – a possible site is shown above  – and allowing sand to build up behind it, washed there by the water. This is typically work that is within the skills of local people.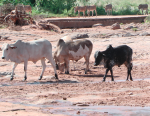 This provides an in-fill of sand which becomes water-logged at the next rains. The sand reduces the rate of evaporation and also filters the water which can be obtained through taps in the dam wall or from wells sunk into the sand bed. (Since animals come to drink from this water it can rapidly become polluted and cause disease.)
Thus a sand dam has several benefits: 1) it retains water 2) it reduces evaporation 3) it provides cleaner water, thus reducing illness.
More information on sand dams can be found here although this is not the group constructing ours.
The total budget for the four small sand dams is about £20,000 and for the bore hole about £30,000. Edward is thrilled with the local response and has funds for all but three of the dams! But he still needs funds for these and to continue to supply water and food.
Funding
If you would like to contribute to these projects as well as continuing to help to provide water and food for those in the present crisis you can give on line here or send a cheque (payable to Newfrontiers and marked Kenya Crisis) to
The Finance team
Newfrontiers
The Matrix Complex,
91 Peterborough Road,
London, SW6 3BU
UK
Tweet This
Tags: Famine, Poor, Relief and Development, Sand dam, Water