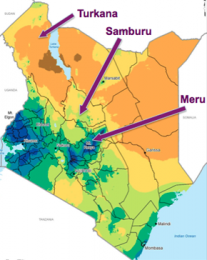 When did it start?
In November 2010 I was contacted by Edward Buria with a plea for help. Drought had once again hit Kenya and the Horn of Africa. In Kenya alone 5 million people were threatened with starvation. Could Newfrontiers churches raise some funds for food and water?
Following an appeal, £260,000 has so far been raised to help alleviate the problem.
Recent visit
Recently I travelled with John Buria, Edward's brother, and his relief team into Turkana and Samburu to see what the situation is currently like and to learn about the intervention the Newfrontiers churches have brought over the last 15 months.
After a long hot journey (temperatures around 40 degrees) we reached a remote location west of Lake Turkana, 17 hours by road from the Newfrontiers base in Meru – but we flew! This was my first visit. Following a television broadcast in August Edward (who oversees the Newfrontiers churches in Kenya) had received a request from Turkana to 'come over and help'. He has been praying for Turkana for many years and saw this as the opening he had been waiting for.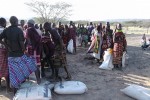 We found a desperately needy people living on the edge of starvation. They relied on hand-outs from the team. Rains had come recently so water was no longer a problem, but crops had not yet grown; indeed some of the seed had been washed out of the ground when the rain was too heavy.
We also visited a camp for Internally Displaced People. They have lived there, dependent on hand-outs, since the post election riots of 2007/8.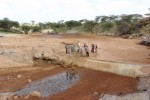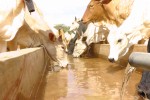 Next we travelled to Samburu, an area I have visited many times. I was delighted to see a sand dam had been built. This traps the water as it rushes down the river for perhaps one week during the torrential rains, when they do come. Usually this precious water is lost into the sand. Now it is stored in a bed of sand (which reduces evaporation and filters the water) and will provide a source of water during the prolonged dry seasons.
Below is a video. Do take time to watch it.

On-going need
The crisis is far from over. Food is still needed and dams have yet to be finished. About £150,000 are still needed.
If you wish to make a donation you can give online through the Newfrontiers website or send a cheque (payable to Newfrontiers and marked Kenya Crisis) to:
The Finance team
Newfrontiers
The Matrix Complex,
91 Peterborough Road,
London, SW6 3BU
UK
Tweet This