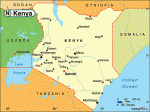 The drought and resulting severe shortage of food and water in Kenya continues to be extremely serious. Edward Buria and his team are going several times each week to Samburu with water and to bring encouragement to those who are suffering.
Recently I was able to interview Edward about the situation. I hope that this video will help you pray more effectively. Perhaps you would consider showing it in your church?
Kenya Drought Crisis 2011 from Newfrontiers on Vimeo.
If you wish to make a donation to the Appeal fund you can do this on line or by sending a cheque payable to Newfrontiers and designated 'Kenya Crisis Fund' to:
The Finance Team
'Newfrontiers'
The Matrix Complex
91 Peterborough Road
London SW6 3BU
Please let us know if you are a UK tax payer and send us your address if you wish us to claim Gift Aid on your donation
Tweet This