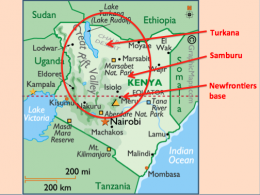 The most severe crisis of drought and famine that has been faced by the Horn of Africa for over half a century has now been impacting several nations for over one year. Our involvement with churches in Kenya has enabled a crisis fund, currently standing at £230,000, to be channelled direct to places of the most severe need through this network of churches in the tribal semi-arid desert regions of Samburu and Turkana.  Particularly it has been possible to meet people's needs in their communities thus removing the added trauma of having to relocate to Relief Camps with all the attendant challenges and risks.
Recently Edward Buria, who brings oversight to the Newfrontiers churches in Kenya, spoke to us on video. Through this you will see that rain has now come and planting has been able to take place. It is anticipated that there are now only another 2-3 months for which it will be necessary to supply food while the crops grow.
Building dams
By Easter it is hoped to complete all the small dams that have been started (sand dams and pan dams) so that the water that comes in the rainy seasons (typically April and November) can be trapped; in an average year this totals only 350mm so every drop has great value.
Christmas Offering?
About £150,000 is still needed to accomplish this. Maybe you could consider a Christmas offering. You can donate online at Virgin Giving or cheques can be sent, payable to Newfrontiers and marked Kenya Crisis Fund, to:
The Finance Team
Newfrontiers
The Matrix Complex
91 Peterborough Road
London, SW6 3BU
Tweet This
Tags: Famine, Kenya, Poor, Relief and Development