How did it start?
Several years ago Martin was invited to set up an initiative to help UK-based churches to engage more effectively with those who are poor or in need in their local communities. Adopting the vision statement –
To see the Church in the UK be a champion of the poor and a means to healthy communities across the nation
– Martin and a core team have worked tirelessly to develop strategies for Social Action, Social Justice and Social Enterprise.
In many ways they have 'punched well above their weight'; they have developed a network across many streams and denominations, have entry into places touching national strategy for the poor, and have served many churches directly or indirectly in helping raise the excellence of their ministries.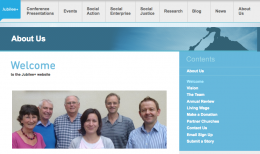 Communication

This has been one of the key ways in which they have served churches. There is a good website packed with resources and a regular emailed newsletter. Through this regular updates are given on a host of topics affecting both policy and practice. Martin also writes a blog (see this one on Brexit) and a book has also been published 'The myth of the undeserving poor' which has received widespread acclaim.
Research
Research projects are on-going. Ones on 'Early years' and 'Debt' are complete, and another on the older generation is in progress. They have also published details of other people's research on the website which provides a good foundational resource for anyone wanting to become involved in a particular sector.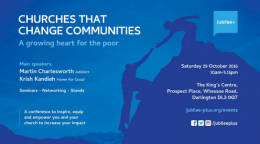 Conferences
In addition to the annual conference – an excellent opportunity for training and networking – several more specialist conferences have been held. Materials from these are available on the website. Register here for this year's conference
Annual survey
Geoff Knott has carried out bi-annual surveys across the UK to show what is happening. These are thorough, and valuable tools to help with planning.
Interview with Martin
Recently I had the privilege of joining a day consultation and took the opportunity to interview Martin. In addition to telling us about the vision and practice of Jubilee+, including prophetic direction that God has given and working with other streams, Martin also spoke about the possible impact of Brexit on the poor. This is an interview definitely worth viewing.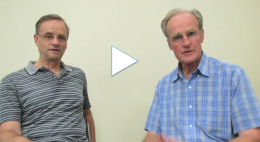 INTERVIEW
Tweet This