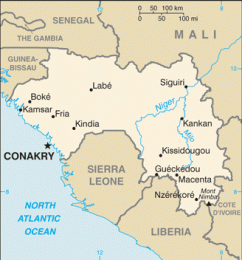 Nicolas Thebault continues to bring an update on the situation in Guinea.
The Church is growing at a steady pace (approximately 30% every year for the past 4 years)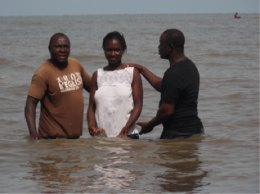 Baptisms, baptisms and more baptisms…
We passed the threshold of 100 baptisms between September 2010 and June 2014.  There are visitors every Sunday. We have a dozen house groups against 2 four years ago. The church is now predominantly Guinean.
The challenges are therefore for us to be able to help all these new Christians to become Jesus' disciples and to form new leaders.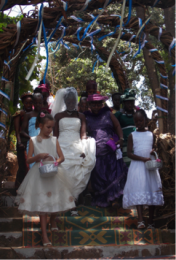 Weddings and Marriage
We celebrated our first Christian wedding in Koukoudé. Since then, we have celebrated 6 weddings in 2 years.
This is a main challenge for a lot of our young Christians who have to get their life in order.
Nearly all of them come from other backgrounds and some conceptions concerning relations between men and women are very far from what the Bible teaches.
It is a long-term endeavour but we had the privilege of seeing lives transformed by God's work and couples becoming pillars in our church.
We had our first conference about this issue with Dave and Leslie Nunn in February 2014.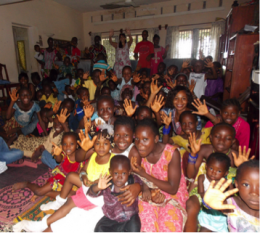 Half the population is under 15 in Guinea. Between 80 and 100 children come to our Junior Church. For the moment they meet in our living room! Elaine is training a new Junior Church team made up mainly of newly baptized Christians.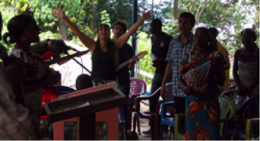 The praise team is organizing itself too but we don't have enough musicians. Elaine and her team have translated songs into Guinean dialects. We are still waiting to be able to write our own!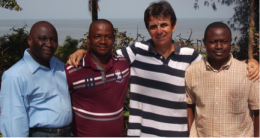 Building project
In June 2012, after years of search, we signed a lease for a piece of  land just next to our home. The church consequently moved into our garden! We have already seen financial miracles but we still need more to carry out this project (we need at least €50,000). With a growth such as we are living now in the church, our material needs (excl. Ebola) are enormous: Buses to transport everyone, chairs, better sound system, musical instruments, a children's room there are 80 to 100 children in our living room every Sunday morning). As Elaine puts it, it's the kind of problems everyone dreams of having one day! We need your help and prayer.
Don't hesitate to contact us for more details and information
Tweet This