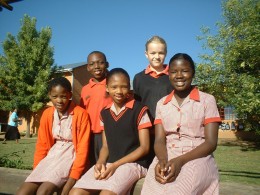 In part 1 of this report about the multi-cultural Dihlabeng School, situated near the border between South Africa and Lesotho, Margaret Grant, the Founder, Visionary and Principle, shared about the History and Vision. Now she shows how effective the school is at fulfilling this vision, how she has obtained funding and some of the lessons learned from her experiences.
This report, taken from my book 'The Poor deserve the Best' (see side panel), is one of thirteen I included with the intention of being a practical help to others who may be considering starting similar ministries.
What is the fruit of the ministry?
The school has been in existence for ten years and so there have been a fair number of learners who have passed through the school and gone on to further learning. Many of the learners now have excellent jobs, some in multi-national firms, some have gone onto tertiary education and many of them are fully involved in the church, and are continuing with and growing in their walk with God.
We have seen parents of children who are in the school come along to the church, get saved and added to the local body of Christ. Several of our youngsters are now playing musical instruments in the church's youth worship band using skills they first learnt in our primary school.
We have several teachers who are being trained on the job and who are studying a teaching course with UNISA, a distance learning university. This will enable them to become fully-fledged teachers. Two of these teachers are now in their final year of study. These changed lives are our trophies!
Funding
Dihlabeng Christian School is registered with the South African government as an independent Primary School and as such, receives a small quarterly subsidy from the state. Some parents pay the full cost of school fees, whilst those of needy children pay only a small token fee, which differs according to individual circumstances. This fee is not nearly adequate to cover all necessary costs so sponsorship is sought, in both South Africa and from the UK, for the majority of the children who attend the school. The most needy children require full sponsorship, whilst others need partial sponsorship. This helps to cover school fees, books and stationery. Extra funds raised through the sponsorship programme also help to provide classroom equipment, money for extra curricula activities and trips, plus resources for special needs education.
The Dihlabeng Christian School Trust is registered as a Non-Profit Organization (registration number- 065-845-NPO). We receive 100% of any donations given and are able to issue a section 18A certificate to donors for tax purposes.
Lessons We Have Learned
There have been a myriad of lessons learnt over the last ten years. Here are a few:
Nothing is impossible with God
Stay true to the original vision God gave you
Team work is the key to success – get help in areas you are weak
Make sure you are developing others and helping them to grow into all God intended them to be
Building good relationships is essential – enjoy spending time with those who are for you and what you are doing
Pray as a school family, as a staff team and with a prayer partner
Don't be too impulsive in decision making and always try to get advice from others on the team
Finances are a real challenge especially at the start of a project and personal sacrifice for the bigger vision is definitely required
A leader has to live with being misunderstood and criticised at times and it is not necessary always to try and justify your actions
There is great value in getting input from a mentor who has walked the road before you and great value in being linked in with the church
Global links with other schools and with the wider body of Christ are essential
Keep going no matter what. Never, never give up – keep the vision in mind, especially when the going is tough.
Information which may be helpful to others
The school has developed a sponsorship programme which works in conjunction with the amount of school fees that the parents pay. This amount is decided according to their income. This has been developed and is run very successfully by a partner church which is part of the Newfrontiers family of churches in the UK.
Contact details for enquiries:
Phone/fax: +27 (0)58 256 1796     Email: dihlabengschool@intekom.co.za
Tweet This