Last Sunday was a day of great celebration as the Kings Church Mid-Sussex met to celebrate the opening if their new building. In opening the meeting Jim Partridge, the Lead Elder, shared how the local Member of Parliament had said that what this church had achieved was a miracle. I like it when the world acknowledges the greatness of God!
It all started in 1968. A small group of believers began to meet in my wife Janita's and my home in Scaynes Hill to study the Bible together. The co-hosting couple (we actually met in their home on the first occasion) suggested inviting a friend of theirs to come and speak – Terry Virgo walked through the door!
In 1973, following a prophetic word he had received at his home church in Seaford, Terry started to travel and came to us every two weeks. In August 1977 this home group, which often numbered 30-40 people, formed the nucleus of Terry's first church plant, the Mid-Sussex Christian Fellowship, which began to meet in the Bar Lounge of Clair Hall, a local community hall in the nearby town of Haywards Heath.

In June this year, after nearly 35 years, Kings Church, as it had been renamed, met at Clair Hall for the last time and migrated to Burgess Hill to take up residence in a superbly converted industrial unit. During those 35 years many people had become Christians through the ministry of the church, several other church plants had been made from Kings Church and many people had left to serve the Kingdom in full-time ministry,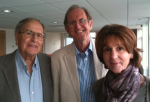 most notably David and Margaret Coak who had planted churches in both Cambridge and Oxford, seen here with another founding leader, John Salmon.
This first church plant marked the beginning of Terry's apostolic ministry and led to the formation of an apostolic team, initially called Coastlands but soon to become New Frontiers, then New Frontiers International (NFI) and finally Newfrontiers. The Team came into being after the second Downs Bible Week in 1980 and hosted further Bible Weeks; Downs until 1988 then Stoneleigh from 1991-2001. Much else has happened in the intervening time that one brief blog cannot embrace. But currently the family of Newfrontiers is being re-defined to function through multiplied apostolic spheres around the world, embracing close on 1000 churches in nearly 70 nations. God is good!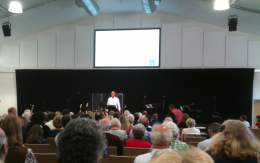 Terry spoke at the Celebration last Sunday from Ezra 1:1-6 and Isaiah 1:7-9. He drew out of the passages three 'Ss' – Survivors whose judgement has past, Seers with a vision for the future and Supporters whose commitment is for the present. As I look back over four decades I thank God for the privilege of having been alongside such a friend as he has led this family of churches and we have sensed God's favour. In this baton-passing season my prayer is that Kings Church, and hundreds like it around the world, will continue to enjoy the favour of God and fulfil their destiny to advance the Kingdom in our generation and that the gospel will reach the ends of the earth.
Tweet This