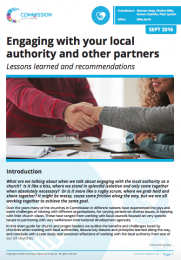 Does your church minister in isolation with those who are poor or in need, or does it work/network/partner with local agencies and stakeholders?
Healthy changes
There was a time in the UK when churches were viewed with suspicion by local authorities. I am sure that is still the case in some areas. But with financial cutbacks, and changes in government policy and practice, faith-based programmes to help poor and needy people are now looked on more favourably. Foodbanks (eg Trussell Trust) abound, as do activities such as Street Pastors, Nightshelters (eg Church and Community Night Shelter Network), soup kitchens to help people who are sleeping rough etc.
Also, 'Not Invented Here' would formerly have stopped churches carrying out ministries. There was once a desire for recognition of an activity as being 'our ministry'. If other churches were carrying out a particular ministry in the area there was little desire to become involved. No longer!
Working Together
I am encouraged to see churches increasingly working together for the sake of the community. There is also a willingness to work with secular authorities. Long may these trends continue.
There are many benefits of this approach:
Learning and sharing 'good practice
A more holistic/integrated approach when helping people in need as it becomes easier to 'signpost' them to other services
Building a favourable reputation in the city which honours the Lord
How to do it
With these changes comes the need to learn 'good practice' from others. The launch of Engaging with your local authority and other partners is a really helpful booklet which makes a significant contribution to sharing 'good practice'. It has been produced by an international Task Team for ministry with the poor from within the Commission sphere of churches, led by Guy Miller. This team, led by Miles Jarvis, has been looking at ways to help churches in that sphere improve their ministries in this important area. But they have made the booklet freely available to others.
Having established many of the benefits of working together the booklet also recognises and addresses some of the challenges, such as:
Local authorities may not have power invested in them
Local authorities may not want to get involved
Local authorities may not have resources
There can be a compromise of values
Key points learned
Having realistically recognised these challenges the authors have built on practical experience to highlight key points they have learnt from which we can all benefit. They then share some case histories to exemplify how ministries can be implemented.
Availability
Engaging with your local authority and other partners gives some very practical guidelines and I commend it to you. It is free to download from the Commission website.
Tweet This