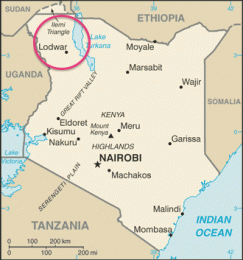 Not yet halfway through the drought…
A few weeks ago I publicised the drought that was being experienced in Turkana, North Kenya, together with the impact Edward Buria and the Newfrontiers churches were making to help in alleviating the situation. I have just received this update. The situation continues to be very serious. No rain is expected until October, at the earliest, so on-going help is needed for at least another 6 months.
The fund is still open. If you wish to make a donation contact  paul.wright@tkc.org.uk of the Kings Church, Mid-Sussex who is coordinating the appeal.
Edward's Report
'Drought of death in Turkana' is the only way I can describe the on-going and prolonged drought in Turkana that set in a famine not witnessed in the last 70 years. Its sadly claimed dozens of lives, thousands of livestock and is making life in Turkana, West Pokot and parts of Samburu completely unbearable.
I have been leading a team from Meru that joined up our Turkana teams that are composed of our Pastors as we continue with the intervention programs that started at the beginning of this year and which will go on to sometime in November 2014.
We have been giving out relief supplies every other fortnight to around 500 – 600 families (representing close to 3000 souls altogether). We have been forced to include supply of powdered milk alongside unimix (all children) supplements as children are at very high risk of easily succumbing to the effects of famine and the extreme hot climate that at times goes beyond 43°c.
Our latest visit, badly affected me as I listened to very sad stories of the numbers of those who have already died due to the crisis, thousands of livestock have also been lost as well as the general life of these dear people has completely been made unbearable. The story is the same from one village to the next. In some places, things have been worsened by cattle rustling from neighbouring communities who also have not been spared by the effects of the drought/famine.
It is clear that we will have to continue the relief supplies intervention up to October/November when we hope at least rains (hopefully) will arrive. In the midst of all this, it is a great encouragement to see how the fish project continues to supplement our relief support as fish is supplied to the needy families especially near Lake Turkana. Talking with the pastors and leaders on how best we can continue with the relief / sustenance programmes, it becomes clear to me that investing more in the fish project is very feasible.
As funds become available, we will:-
(1) Purchase 2 more motorboats (as they can launch into the deep parts of the lake where there is sufficient fish)
(2) Purchase 4 motorbikes (to help supply fish both to the needy families as well as taking the balance to Lodwar market for selling)
(3) Purchase 2 new sets of quality fishing nets to make the 5 boats free to go fishing at different times
(4) Since we noticed children have been badly affected, we are being forced to increase on children products i.e. powdered milk (we have not been supplying this in the past visits but has now become necessary), Unimix and in the more severe cases, supply immediate high energy biscuits for immediate supply of energy to the affected children
(5) The other relief supplies remain as follows:-
(i) Water
(ii) Sugar
(iii) Maize flour
(iv) Cooking fat
(v) Beans
(vi) Maize
(6) We have been able to identify OVCs (Orphans and Vulnerable Children) with the intention of sponsorship and mentorship. This is a great opportunity of breaking the vicious cycle of poverty and permanently changing the lives of these marginalised people. It is an objective that I am so passionate about.
We continue to thank all those who have partnered with us in the last 4 months because this partnership has enabled hundreds of families to remain alive and have hope rekindled. The remaining months of the year will be more difficult and challenging as we get into the dry season – This is when we ask for more prayers.
God bless you,
Your brother and friend,
Edward
Tweet This