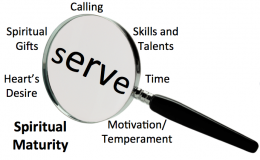 The final element in our Serving Profile is Spiritual Maturity. As people wish to serve in the church it is important that the opportunities match their level of spiritual maturity. For instance, you don't want a newly converted person on the welcome team if they still have a free use of 'fruity' language from their former life! Nor do you want someone leading a ministry who does not yet have a secure and deep walk with God.
Grow up!
When a person is first saved he or she is like a baby. The writer to the Hebrews upbraids those who have been walking with God for sometime for still being like babes (Heb 5:12-14). Here it is written with correction but nevertheless it gives us an insight into the contrast between the immature and mature in Biblical terms:
For though by this time you ought to be teachers, you need someone to teach you again the basic principles of the oracles of God. You need milk, not solid food, for everyone who lives on milk is unskilled in the word of righteousness, since he is a child. But solid food is for the mature, for those who have their powers of discernment trained by constant practice to distinguish good from evil.
The mature person can 'distinguish good from evil'. The babe cannot.
When considering people for a serving position we need to assess their maturity, their ability to discern and to stand firm when the going gets tough. Nehemiah exemplifies such maturity. From the start of the book which carries his name we find that he does not 'cave in' when he hears about the state of Jerusalem, but rather gets on his knees and prays, fasts and repents for the sins of his people (Neh 1:4).
Later, Nehemiah withstood opposition from his enemies since he was convinced that the course he was on was the one that God had given him. Indeed, he not only withstood for himself but he gave strong leadership to help those with him not to let circumstances overwhelm them. He would not be deflected from the course God had put him on (Neh 2:19-20; 4:1-5; 6:1-14)
Matching
In any church there are many opportunities for ministry and it is important that an intentional 'matching' takes place, not only between gifting and skills and the opportunity, as we have discussed at length, but according to the person's maturity. Some ministries are very 'safe' and can provide an opportunity for someone to explore their serving capacity, such as setting up the room with chairs or tidying up after a meeting is over. Others are more in the enemy's firing line such as a ministry to reach out to vulnerable people. Satan does not like people being restored and will oppose those carrying out the ministry. It requires maturity to withstand his fiery darts.
We have now considered all seven elements of the Serving Profile. Next time we shall consider in practical terms how to help people create their unique profile which will then help them to find a place to serve.
Tweet This