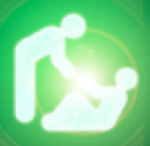 We have been visiting the Jubilee Health Centre in Cape Town. Now Dr Caryn Wilson, who leads the ministry, concludes her day in the life of the Clinic and shares some of the key features which define this successful ministry.
"The midwife reports back from a home visit to a tiny premature baby and her mom, frustrated at the lack of medical progress. We assure her that her care has meant much to this mother and infant, both visibly happy and thriving, as evidence. We explain how we have learned that we minister out of who we are, not what we do, and that we impart what is in our hearts. Love is the greatest truth and ultimate goal. And love always wins. Touch often speaks louder than words. And time taken to be with someone, to listen, means 'I value you'. We've also learned that the poor aren't 'them' but 'us'. Each one of these lessons is beautifully illustrated in this young woman's care for her patients, and we tell her so. We close by thanking God for a day in His presence, enjoying the work that He has prepared for us to do with Him.
Thank you for joining us today."
For by grace you have been saved through faith; and that not of yourselves, it is the gift of God; not as a result of works, so that no one may boast. For we are His workmanship, created in Christ Jesus for good works, which God prepared beforehand so that we would walk in them. (Ephesians 2v8-10)
In writing The Poor deserve the Best I asked those writing reports to highlight any lessons learnt that could help others. Here are some of Caryn's observations.
1. God is the ultimate Dreamer, and He blesses His dreams planted in hearts, by providing for them and producing fruit.
– JHC was conceived as a dream God planted in the hearts of the elders, and we have bought into this dream together as a church, enjoying His blessings, provision and fruit as a result.
2. God Himself is our Source and First Client.
– Prayer is what powers all we do. We meet with Him, and hear His heart and mind before doing anything. We have found that this saves a great deal of time and energy, and that the practical things, like administration, 'just happen' when we seek Him first.
– We don't remove Jesus from anything, including funding proposals.
– It is important to allow God to lead continually, step by step, in every detail, even when it doesn't make sense. We walk by faith and not by sight (2 Corinthians 5:7). This also means that we don't need to stick rigidly to strategic planning when He says otherwise.
– We cannot assume that we know what people need/want. We need to listen to those we serve, and then prayerfully consider how to respond (with God-ideas, rather than good ideas).
3. Trust takes time.
4. There is such joy in (daily) celebrating diversity.
5. Working in team is synergistic.
– We can truly do more together than we can apart.
6. God meets each one He brings to JHC.
– He tenderly reaches out to touch them as we watch and marvel at the privilege of partnering with Him in His work.
7. God is the Best Teacher (Isaiah 30v20).
– He in turn teaches us to make the most of "teachable moments", even when they seem inconvenient (like taking the time to answer a medical student's deep and difficult question in the middle of a busy working day).
8. We minister out of who we are, not what we do. And it is so important to KNOW that we are children of God (identity is key).
– We impart what is in our hearts.
9. Love is the greatest truth and the ultimate goal. And love always wins.
10. Touch often speaks louder than words.
– Time taken to be with someone, to listen, means "I value you."
The poor aren't 'them' but 'us'
You can contact us on: Health@jubilee.org.za. We would be happy to answer queries or add you to our mailing list for our newsletters. (Nigel's comment: Get the Newsletter. It is always very inspiring!)
Tweet This