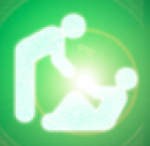 We will now return to the series on Development from a Christian perspective. In my recent book The Poor deserve the Best (see panel at side) I conclude with examples of ministries which I consider display excellence from around the world and across the development sectors. I would like to share some of these over the coming weeks to inspire you and demonstrate why development work carried out in and through the church is particularly effective. I shall begin with the Jubilee Health Centre from the Jubilee Community Church in Cape Town, lead by Dr Caryn Wilson who wrote this contribution. It will be in three parts.
"Summer in Cape Town is festive, with Christmas celebrations thrown in for good measure. I'd so enjoyed the holiday, a much-appreciated rest from work, but one week seemed simply too short. Here I was preparing to return to work and wishing an extended vacation had been included in my Christmas stocking… Suddenly I realised I was happily singing as I made my way through morning rituals. Who was I kidding? I simply love my work. And my soul celebrated my return to Jubilee Health Centre in song, quite unconsciously.
A Dream is born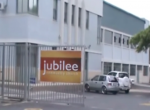 Join me for a day in Jubilee Health Centre (JHC). Together let us walk through the doors of a converted tile factory in a windy downtown suburb into Jubilee Community Church, where the JHC was conceived as a dream God planted in the hearts of its elders years ago. It began here as a nurse met with women of the community, and here it was birthed as a primary care clinic in a bare room in 2006, with a doctor and a second nurse in attendance.
The infant JHC was raised and nurtured in prayer and faith in Jesus, as God led us step by step, teaching us to walk in His ways. By October 2008 we had grown to include pregnancy crisis counseling, and voluntary counseling and testing for HIV. God has blessed this venture and provides for the needs of JHC through generous givers, South African and other, some income from patients/clients, and our church itself.
Prayer is central
Today is Tuesday. We enter the small suit of rooms behind the church receptionist's desk and are greeted by smiling faces and warm hugs. Hurry! It's time to gather together as a church staff for worship and prayer at the start of a working week. Tomorrow we'll meet as a JHC team for the same, sometimes with a bit of teaching included, before opening our doors to those seeking our help. This is our daily practice, spending time with Jesus together before we see anyone else. He is our Source and our First Client.
Diversity of the people we meet…
A line of people has gathered in the small JHC waiting area when we return from prayer. Many are from the local community, living in rundown overcrowded buildings next to factories, under bridges, or on the street. Some have recently been re-housed in tin shacks 20km away.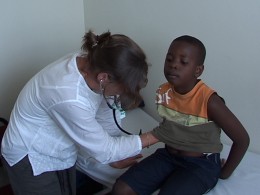 On Tuesdays our morning patients will largely be local women and children, as they gather in the church hall for another program providing them with "time out", run by one of our elders' wives. But JHC serves a diverse and widespread population, some from near and some travelling from very far to see us. They range from the destitute and homeless to those having an income of sorts, and include people struggling with substance abuse, ex-prisoners, policemen, factory workers, university students, casual labourers, domestic servants, beggars, refugees to name a few. They also come from various tribes and nations. God brings each one to us. Our vision is both to serve the poor and needy, and also to equip and release God's children to serve.
…and a diverse team
Our team today includes a visiting medical student from Peru, a midwife here for a month from England, a nurse from the USA spending the day with us, our Tuesday helpers – a sweet "housewife" fluent in French and full of God's Spirit, a financial advisor, a physiotherapist and an additional counselor – together with our usual doctor, two nurses, a counselor and our part-time administrator. Most are volunteers. What joy there is in daily celebrating diversity here! So many different languages, accents, colours, cultures, smells, mixed with tears and laughter, fill the narrow corridor, where we gingerly step over crawling infants playing with toys from a corner box, carefully avoiding the half-chewed sandwich dropped by a toddler…until we reach the hub of the admin office, where files and patients are sorted. Some have appointments, but many have arrived just hoping to be seen today, or sometime soon."
Next time we will join Caryn and her team as they carry out clinical work
Tweet This