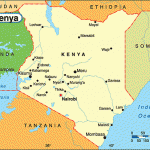 From Zimbabwe to Kenya
In March I attended the 6-monthly Foundations for Farming Champions Conference in Zimbabwe. It was a great pleasure to meet two men from Kenya. One, Ashford, I knew from a previous visit to his country when I accompanied him on a medical visit to an unreached people group in Tharaka. He is an Ophthalmologist (eye specialist) so I was surprised to find him attending a Farming Conference! However, I learnt that he had been brought up in a farming environment and was keen to do well.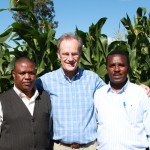 I had not met his colleague before, Peter. He works for the ministry of Agriculture in Kenya as an agricultural advisor.
For various reasons I wondered how they would get on in Zimbabwe at the Conference. Why would an ophthalmologist really want to learn about this form of agriculture? Would an expert be prepared to learn new techniques? Whatever the future held we had a lot of fun and laughs together and at the end I warned them I would be visiting Kenya in May and expected to see outstanding crops.
To be honest, I had severe doubts that I would in fact see anything. I am delighted to say that they proved me wrong! Two more outstanding men for this task it would have been hard to find and it was my joy to congratulate Edward Buria on what appeared to have been an excellent choice when he sent them!
Inspecting the site
When Ashford and Peter returned from Zimbabwe they had very little time to put their new found knowledge into practice if they were to benefit from the next harvest season. But Ashford acquired a small parcel of land (about a tenth of a hectare), and prepared the ground and planted in two days, March 18th and 19th. Then he went each morning to his field before attending his clinic in order to weed and maintain the soil. Peter visited weekly to offer advice and to help deal with a disease that attacked the crop. Together they worked hard to produce a model for others to inspect – and they have succeeded 100%!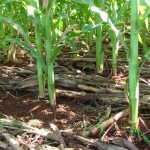 A healthy weed free crop
When I visited at the end of May I found a crop standing about 2 metres high with healthy cobs forming on each of the lush stands. Mulch had been in short supply but Ashford had imported some and that part of the field where he laid it was weed-free. He had had to weed only twice in two months. The other part of the field was also weed-free but this took four weeding sessions to achieve.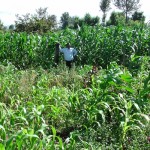 Interestingly and very helpfully Ashford's neighbour planted in the next field also on March 18th. What he succeeded in doing was to provide a powerful visual aid about the effectiveness of Foundations for Farming compared to the traditional rural methods, as shown in the photo, since his crop is virtually useless. Weeds abound and the height of the sparse crop is, at best, well below one metre.
It will be two more months till harvest and they (and I) are full of expectation that it will yield a good crop, perhaps at the rate of 2-3 tonnes/ha. Ashford is already planning to acquire 8 hectares next season and to plant a variety of crops ~ maize and various legumes. I look forward to my next visit!
Training others
A programme of traing others is to be launched in July. The hope is to teach church leaders so that they can encourage their people. Who knows, maybe this will contribute significantly to alleviating the repeated problems of failed harvests in Kenya due to a shortage of rain as Foundations for Farming optimises the benefits of what little rain there may be.
Tweet This
Tags: Foundations for Farming