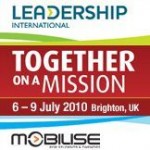 This will be my last blog for the summer. I realise that there are other things on peoples minds such as holidays – in the UK at least. So I am joining them!
The importance of debriefing
For my final blog before we break let me share with you how we debriefed from the Together on a Mission Conference (TOAM10). Debriefing is a very important part of conference organisation, or indeed of organising any event. For instance, what did Jesus do after the disciples first ministry trip? Debriefed (at least he set out to do so until he was interrupted by 5000 people!). And after feeding the 5000? Debriefed! How else would he have known how many people had attended, how many baskets were left over and so on?
The debrief process
So what did we do after the TOAM10 Conference and how? I gathered 16 of my key players. We planned the 2 hours or so to contain 4 sessions. One aspect of the Conference was discussed in each session:
1) The Delegate experience
2) Meetings
3) Practical Matters
4) The Management Team meetings
Within each aspect there were various topics. For instance there were 11 topics in 'Delegate Experience' such as Advertising, Booking System, Videos.
In each session we divided into four groups and discussed the same aspect/topics at the same time. We asked people to make any observations about the particular topic being considered, and then to hold a discussion and make suggestions about ways in which we could improve for next year. These were all recorded by a 'scribe'.
For the next session we rearranged the groups so that different people were working together. We found this added to the enjoyment of the time and created a positive atmosphere in which people commented openly on what had happened and made some very creative suggestions.
We ended the morning with a very enjoyable lunch as a way of saying 'thank you' for all their hard work, before returning to our various bases.
Using the Information
This information will now be collated. It will be combined with comments we have received from delegates through feedback forms which we handed out at the Conference. These were targeted to representative people eg Leaders (UK and International), Wives, Mobilise etc. This ensured we had a representative response. The resulting document will be circulated to the team leaders and they will be asked to come to the next planning meeting (the second for next year's conference) with observations about the viability of any of the suggestions. These will be implemented if appropriate.
Thus the final meeting for the conference just passed became the first meeting to affect the next – a 12 month cycle!
We hope you will join us there. July 12th–15th. Bookings will open early in the New Year on the Newfrontiers website. If you want to watch or listen to the downloads (Video/Audio for Main Sessions, Audio only for Training Tracks and Seminars) click here >> 
Enjoy your summer (northern hemisphere), rainy season (equatorial) or winter (southern) as appropriate!
Tweet This
Tags: Administration, Newfrontiers