It was so stimulating to gather with over 250 passionate and like-minded people for the annual Jubilee+ conference! The opportunity to learn about how to be more effective in ministry with those who are poor and disadvantaged, to receive fresh vision, to network with others and to pray together, was an event I was determined not to miss. And my expectations were not disappointed.
Jubilee+
Jubilee+ is an initiative that began within the Newfrontiers family of churches several years ago with a vision 'To increase social inclusion and the relief of poverty through churches engaging with social action, social justice and social enterprise'. This is achieved through 'equipping churches of all denominations to engage more effectively with our communities and, particularly, to help them increase their capacity to serve the poor' by
training leaders
providing resources
bringing encouragement
establishing networks
doing research
developing relationships with partner organisations
running conferences
Understanding the times
The Conference was held in the excellent facility of the Jubilee Community Church, East Grinstead in the UK (the venue moves to different parts of the country every year – next year Darlington, October 29th). The leader of the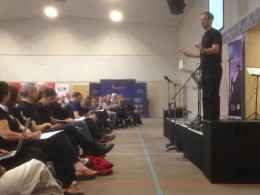 initiative, Martin Charlesworth, opened the conference by taking us through scripture – the tax collector's 'poverty' of exclusion and the man with the withered hand – to help us have an understanding of the times we live in, an era of severe cutbacks where those who are poor and disadvantaged are the first to suffer. He showed how the vision of Jubilee+ in this context is 'to see the church in the UK be the champion of the poor and a means to healthy communities across the nation'.
He suggested that the economy is unlikely ever to return to its former stability, with welfare at previous levels. So now is the time for the church to take her place in being salt and light in practical ways.
Testimony is always powerful and Martin shared some wonderful stories of people, now in his church, who found hope in the gospel and have been helped to rebuild their lives.
The session ended with a time of one-to-one prayer for those who wanted an impartation of more grace to serve. Such times of prayer are a valuable and important part of this conference.
Seminars
There were 5×2 seminars, nine of which were recorded and will be on the Jubilee+ website in due course:
A robust theology for social action
Empowering the poor
Influencing decision makers (not recorded)
Local church – doing business for social benefit
Research – demonstrating the impact we are making
And
Foodbank… what next?
Leading a church growing in social action
Shrinking State, growing challenge
The myth of the undeserving poor
Volunteers – mobilising, managing and maintaining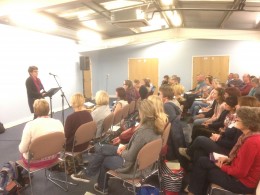 I attended 'Empowering the poor'. The speaker, Angela Kemm, has huge credibility having worked for many years as a white woman in the townships in South Africa (watch this video made several years ago). She made herself very vulnerable as she honestly shared some of the successes and mistakes she made, always bringing us back to the centrality of Christ and the gospel as being the only true empowering way. She demonstrated how God has prepared good works for us to walk in (Eph 2:10) and has equipped us with the gifts of the Spirit to minister to others. She taught us from her own experience how vital it is to follow the leading of the Spirit in every situation, some, in her case, being very dangerous. But she was confident in the power of God to protect her – and He did!
Once again the session ended with one-to-one prayer. How I love these opportunities to be refreshed and receive impartation!
Chris Mould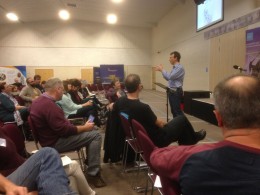 Chris, the CEO of The Trussell Trust, which franchises over 400 Foodbanks in the UK, spoke twice, once in a plenary session and then in a seminar 'Shrinking State, growing church'.
Chris has a good awareness of the current social situation in the UK and pulled no punches about the serious plight of those who are at the 'bottom'. The rapid growth in the number of Foodbanks in seven years from 29 to nearly 450 demonstrates how stretched the statutory services are. As further austerity kicks in, this is likely to become much worse.
Chris lives with a prophecy received about six years ago that there would be a diminution of public services (we are certainly seeing that!) and that there would be a return to former levels of poverty and a lower level of living. So convinced was he of this that, with the Trussell Trust, he started some homes in Bulgaria (you will need to click on 'translate on the home page) to help minister to people in dire need, particularly those from the Romany communities who are 1/6 of the population. This was partly so that he could learn lessons of what such conditions might be like in days of greater austerity.
Chris' final appeal was for us to consider our own lifestyles, a challenge that was endorsed by Martin. Are there steps we need to take to learn to live in simpler circumstances and to rely on God's provision?
Reflection
Churches that Change Communities was a fitting title to the conference. God has designed the church to be the change agent in society. As churches we must not be inward looking but recognise that we exist for the 'outsider'. Are we prepared to consider the changes that are needed to bring this about? I know that I find myself greatly challenged by such considerations.
Tweet This