Well, more in fact – but I liked the rhyme!
I have decided to postpone the rest of my series on team building until the New Year. Why? On Friday December 16th the Newfrontiers office will finally close after over 30 years so it seems appropriate for this blog to explain what is happening.
With Terry Virgo moving to London (Surbiton), and the whole of Newfrontiers being redefined for expansion and a new season, the need for an office in Hove is no longer there. So the wonderful team I have had the privilege of leading is being disbanded. And that is where the 100 comes in. In fact they have served for over 100 years – and that does not include Terry himself! What a record and what a joy it has been to work with such committed and dedicated people.
Confused?
Recently someone wrote to me and headed the email 'Confused!' They expressed a lack of clarity about the future of Newfrontiers, which I understood. We are in a process. My good friend Colin Baron recently used a helpful analogy. Like a river, we know where we are headed, but if you take a short snapshot of a portion of that river it may look as if it is going in the wrong direction at any particular time due to the 'meanders' it executes.
My reply was not a definitive statement, but may help to bring some clarity if you also feel unclear:
In a nutshell, Terry has been founder and father of Newfrontiers for 30 years. He is 72 and we have been working on transition for over 3 years following a deliberate timetable. Now is the time to begin implementing. Biblically we feel that apostolic spheres are the way to advance the Kingdom (Terry spoke on this in 2009 at TOAM) and so we have not looked for an individual to take over from him as successor but that there should be a network of apostolically lead spheres defined by relationship, not geography. David Devenish is going to coordinate combined international initiatives.
Prophetically we feel that Terry still has much to do through equipping our own men who have emerging and extant apostolic gifting, and also in helping other streams. Together we are called to advance the Kingdom, not just as one family of churches. Terry will not carry executive responsibility for the family of Newfrontiers which will continue as a network of apostolic spheres.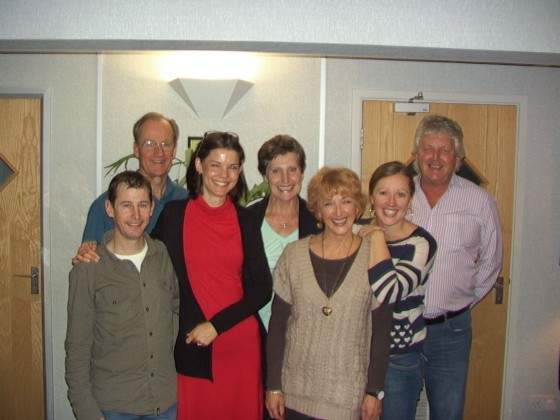 A number of you will know the above team personally. So what of their futures?
Our History
When Terry formed his first apostolic Team in September 1980 he invited me to join him as his administrator. 'I don't know what an administrator does but I know I need one'. I responded 'I don't know either – but "yes!"'.
On this inauspicious foundation Newfrontiers came into being. For the first three years we were called Coastlands, from a verse in Isaiah, 'the coastlands wait expectantly for your instruction', referring to the ends of the earth. However, the name changed as people interpreted it geographically – the south coast of UK since Terry lived in Hove. And so the Hove office was born – although it was 'virtual' for some time, Terry and I each working from our homes.
Adrian Willard joined us in 1984 and was instrumental in shaping much of the 'structure' of Newfrontiers in the early days, overseeing the finances, bringing excellence to all aspects of Communication and, in the late '90s, leading the Management Team of the Stoneleigh Bible Week. In 1987 Janis Peters moved to Hove from Catford (London) and in 2000 Jan Mitchell joined the staff.
More recently, Georgina ('George') Earey, Spike and Josie Milligan, and Becky Tuson have been on staff, the successors to an amazing cohort of wonderful, committed staff who over the years have served the mission of Newfrontiers with grace and excellence, always willing to go 'the extra mile'.
Our Future
So what are we each doing from now on?
Terry and Wendy have already moved to Kingston. From there they will travel nationally and internationally teaching, encouraging, mentoring and 'apostling'. Terry expects to have extended time both within and outside Newfrontiers contexts, helping to build up apostolic ministry and to influence other movements and streams.
Adrian will be doing Marketing consultancy for 3 days each week and hoping for continued involvement with the disadvantaged possibly in the UK.
Janis is excited about the future and is waiting on God with Malcolm to see what plans He has for them. She and Malcolm have sons with their families in South Africa and are considering living there part-time. They will explore this option when they go there for two months in March.
Jan will be joining her husband in 'retirement' and, being a very 'people person', will almost certainly be quickly involved in her local community and the church in Eastbourne.
George has worked part time with Adrian for many years and her heart is to continue to do so. She is waiting to see if this will be possible once Adrian has clarity about his future.
Spike wishes to remain involved with communication and is planning to work with another member of CCK to provide a service of design and technological support for websites and associated communications activities.
Josie has been working part time in the office of CCK since the summer and will join their full-time staff in January.

Becky has just given birth to Zachariah! Her future is probably to be determined by this chuckling little bundle!
For myself, I will continue to minister in the area of my passion – helping those who are poor and disadvantaged. I hope to continue serving various apostolic spheres both internationally and within the UK. I will also serve in my home church, CCK.
Recently I was interviewed. You may like to hear about my hopes and expectations
All at the Hove Office have greatly enjoyed relationships with men and women around the world. We have enjoyed working together with you in God's mission for our generation. May He bless you all as you continue to serve Him. We will be watching from the sidelines cheering you on!
Tweet This